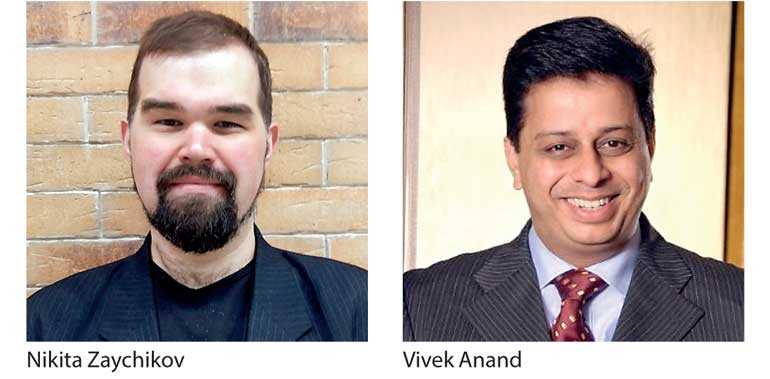 Two global brands in cyber security – InfoWatch and Tufin – have partnered Sri Lanka's premier sixth annual Cyber Security Summit as co-sponsors, the event's organisers said yesterday.

InfoWatch is a leading data loss prevention (DLP) solution that provides remediation for data loss based on both content inspection and contextual analysis of data: at rest on-premises or in cloud applications and cloud storage, in motion over the network, in use on a managed endpoint device, said InfoWatch Senior Manager Nikita Zaychikov.

"Our DLP solution is listed in Gartner's Magic Quadrant and offers comprehensive solutions for enterprise protection against internal and external security threats."

"InfoWatch products allow clients to reduce to a minimum the risks associated with the processing, movement and storage of information within the corporate secure area and outside it," Zaychikov said.

"InfoWatch's integrated solutions not only protect information but automatically collect a body of evidence that can be used in administrative and legal proceedings in the event of a violation of the rules governing corporate information assets by company employees," he said.

Meanwhile, Tufin is a market leader in security policy orchestration solutions that provide the ability to centrally visualise, analyse, control and change security policies across heterogeneous platforms. It enables a high degree of automation for these activities.

"As the market leader of award-winning Security Policy Orchestration solutions, Tufin provides enterprises with the ability to streamline the management of security policies across complex, heterogeneous environments," said Vivek Anand, Regional Sales Manager, India and SAARC, Tufin Technologies.

"With more than 2,000 customers, Tufin automatically designs, provisions, analyses and audits network security configuration changes - from the application layer down to the network layer – accurately and securely," Anand said.

"Our solution assures business continuity with a tight security posture, rapid service delivery and regulatory compliance across physical, private, public and hybrid cloud environments," he added.

The annual Cyber Security Summit – organised by Daily FT, Sri Lanka's only business and finance newspaper, and CICRA Campus, the country's pioneering cyber security training and certification provider – drew an audience of over 400 participants last year.

The main objective of this year's summit, which is being held under the theme of 'Towards a Secure Digital Future', is to create awareness on the importance of cyber security among top officers in the government, corporates and IT professionals. It also promotes best practices to participants in acquiring, implementing, managing and measuring information security postures of their organisations and countermeasures.

The summit also exposes the latest flaws in information security that affects the global community including corporations and governments. Discussions and presentations will revolve around some of the most malicious attacks and potential threats surrounding the security field.

Top personalities from global corporations such as Cisco, Visa and Cellebrite are among the keynote speakers at the summit along with top corporate professionals who have worked closely with the FBI, Interpol and Fortune 500 companies.

The event will comprise the Cyber Security Summit Day Conference for IT professionals targeting senior officials from the corporate and government sectors, and 'Night Hack', an informative session for IT professions tomorrow evening. The summit will also have an invitation-only CEOs Forum on Cyber Security this evening.