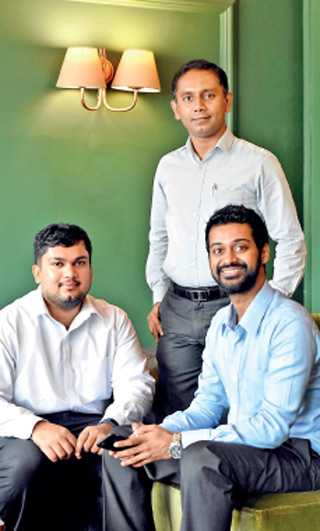 Representing InSync team (from left): Network Automation Engineer Dasun Bibile, CTO Sudeera Mudugamuwa and EVP Sahan Hannadige
---
InSync Information Technologies Ltd., is an ambitious Sri Lankan startup working on networks and network automation solutions. What is unique about InSync, is its play within the network automations space. In less than three years InSync gained momentum for its network automations product – 'InSync Automation Engine' being deployed locally to cater network automation requirements.

Network automation is a widely sought-after technology especially amongst businesses that have a large volume of network operations such as communication service providers. Although it is an emerging field, it has been practiced within the tech industry for a while.

As with many other technology domains, networking technologies today go through a massive transformation paving the way towards autonomous networks. Like autonomous vehicles, autonomous networks will have capabilities to run on its own without extensive human intervention. Achieving autonomous networks is a long journey and network automation is a stepping stone towards it. And it is widely accepted that converting manual operations to automated operations is the first step towards autonomous networks where subsequent steps incorporate technologies such as AI alongside automation.

InSync's own product, 'InSync Automation Engine' is a vendor agnostic software platform for routine network operations automation. Its distributed architecture enables scale and supports fault tolerance for mission critical applications. For organisations with large volumes of network operations, network automation brings operational efficiency, capacity, agility, and a superior customer experience.

As an integral part of business processes, automated network operations will play a critical role. InSync understands this very need and continuously enhances their platform to meet reliability, performance, and security standards of industry. With its latest certification, InSync has further strengthened its platform to meet these demands.

InSync is delighted to announce that it recently had 'InSync Automation Engine version 2.0' certified on Red Hat Enterprise Linux 8. This means that the product is built and tested to the exacting standards of the world's leading enterprise Linux platform, and supports detailed interoperability, compatibility, and security standards. The certification verifies the Red Hat Enterprise Linux platform with InSync Automation Engine in runtime, delivering the integrity and supportability of critical components on Red Hat Enterprise Linux such as the kernel, and Red Hat software packages.

"Broad, certified ecosystems are critical for enterprise technology adoption as well as providing customers with a variety of options to meet their unique IT challenges," said Lars Herrmann, Senior Director, Red Hat Partner Connect, Red Hat. "We are pleased to add InSync as a software partner to the Red Hat Enterprise Linux ecosystem, extending customer choice for network automation technologies paired with the confidence Red Hat software certification brings to their respective deployments."

As a part of the certification, InSync also received membership of Technical Support Alliance Network (TSANet). TSANet is vendor neutral, non-for-profit organisation facilitating collaborative support between partners in a multivendor solution environment that has a membership of 700+ leading companies globally.

InSync Automation Engine is now listed on the Red Hat Ecosystem Catalog – the official source for discovering and learning more about the Red Hat Ecosystem of both Red Hat and certified third-party products and services. And this enables InSync's product to be found within a much larger community of Red Hat users.

"We believe this certification brings greater confidence to our customers. Our platform went through rigorous testing for the certification and it was an extremely useful learning experience for us. Another great benefit for our customers would be our membership with TSANet where Red Hat & InSync will have a common platform to work on mutual customer issues making it convenient for customers to handle trouble tickets. Further, having it listed on the Red Hat Ecosystem catalog gives us greater visibility and validation especially when reaching overseas markets," says Sahan Hannadige co-founder and EVP at InSync.

"Of course, this is just the beginning and we are genuinely excited about future transformation and development of our platform. Last but not the least, this certification would not be possible without the tireless efforts of InSync co-founder and CTO Sudeera Mudugamuwa, InSync engineering team and the support received from Red Hat. Further, we would also like to take this opportunity to thank all our customers for their continuous encouragement, investor, partners, mentors, and well-wishers for believing in us," added Sahan.

More information about InSync can be found on: https://insyncit.net/. In addition to their own product, InSync currently serves large enterprises and service providers for networking solutions and has partnerships with leading vendors such as Cisco, Fortinet, Elastic and Paraqum.

Red Hat, Red Hat Enterprise Linux and the Red Hat logo are trademarks or registered trademarks of Red Hat, Inc. or its subsidiaries in the US and other countries. Linux is the registered trademark of Linus Torvalds in the US and other countries.