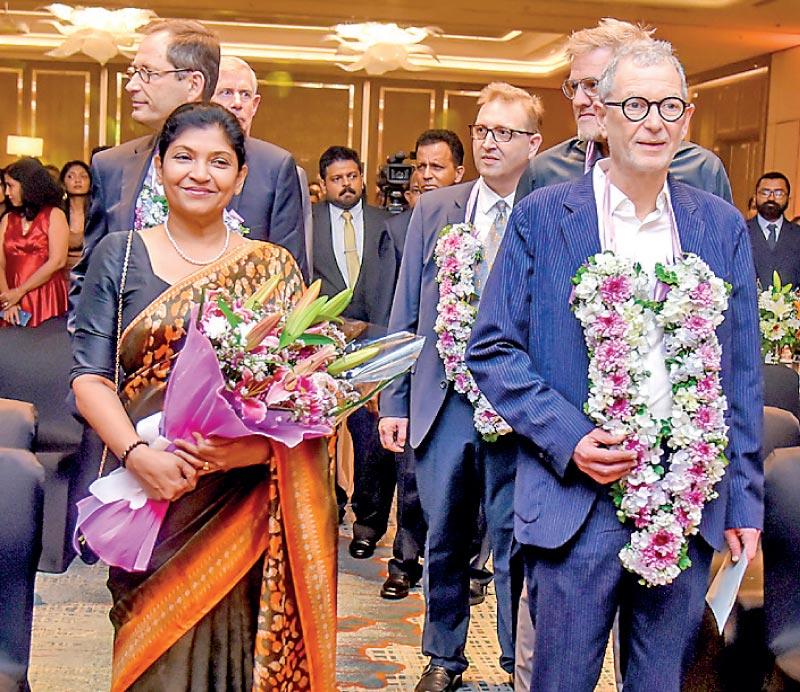 CMS, one of the best-established IT companies in Sri Lanka, celebrated its 25th anniversary with a gala celebration on 7 March at the Lotus Ballroom, Shangri La Colombo.

BOI Director General Renuka Weerakone graced the occasion as Guest of Honour.

The event was attended by several dignitaries and affiliated partners from Europe, including European Computer Services Co-Founders Ronald Reich and Dino Reich, Bluecorp Managing Director Emmanuel Poullet, and SRL Redcorp CTO Olivier Loschi and CBDO Johan Abbink.

CMS, which started with just three hires in 1996, has now grown close to 150 staff as it celebrated its 25th anniversary. The company currently has clients in Europe, the US and APAC, across multiple industries, providing diverse technical talent from Sri Lanka. CMS is located at ISO/IEC 27001-certified offices at Access Towers, Colombo 2.

What sets CMS apart is that the original partners and many management team members are still part of the company after 25 years, preserving the company culture and its focus on people. The long service award ceremony was a testimony to the success of CMS where 47 employees were awarded for their loyal service to the company ranging from 5-25 years. This included the very first employee, Nishantha Amarasuriya who is currently serving as a Director at CMS.

In her speech, Weerakone highlighted the importance of Foreign Direct Investments in Sri Lanka and said CMS has been a pioneer in taking Sri Lanka to the world for excellence as an IT offshore provider. She praised CMS for empowering Sri Lankan professionals to experience global trends in the industry and harness that experience and knowledge in their work with global clients. Weerakone also commended CMS for training hundreds of software engineers and uplifting the SLK tech industry.

In his welcome speech, CMS Director Roshan Jayalath praised the dedication, hard work and loyalty of CMS employees and management, which is one of the key reasons behind the long-standing success of the company along with the unwavering support from its affiliated partners. Representing partners and investors, Ronald Reich and Emmanuel Poullet added that throughout their journey they had their share of ups and downs, but one thing remained constant – their love for Sri Lanka and its people. He emphasised that the warmth and hospitality of their Sri Lankan colleagues made their work life much more enjoyable.

The company plans to further expand its footprint in the North Americas, Scandinavia and Australian regions while preserving its boutique offering with higher quality talent over quantity. CMS is currently hiring varied engineering profiles, providing industry-leading benefits such as Euro-pegged salaries and hybrid work arrangements.

"We're proud of what we've built together and look forward to greater achievements in the years to come," said HR Manager Asanthi Weerasinghe.

The gala dinner consisted of many entertainment items showcasing the amazing talents of CMS employees. It concluded on a high note with all attendees thoroughly enjoying the evening's festivities and partying, keeping up with the tradition that at CMS, they work hard and play hard.