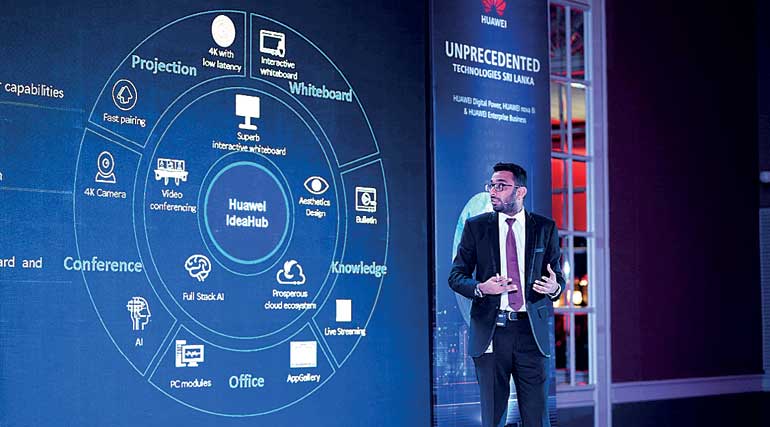 Huawei Enterprise Business Group Account Director Sikander Sabeer presenting the Huawei Idea Hubs and Enterprise Solutions
---
Introduces Huawei's Digital Power Technologies, Enterprise Business Solutions that include Next-Gen Wi-Fi 6 Series Products, Storage and nova 8i
---
Huawei last week introduced latest technologies to accelerate Sri Lanka's digitalisation drive and position as a Smart Digital Hub in the region.

The suite of products included Luna2000 from Huawei Digital Power, Digital Solutions for Enterprise Business that includes next generation Wi-Fi 6 Series Products, Storage solutions, and a new range of IdeaHubs devices, and more consumer products that include nova 8i Smartphone, Huawei Watch GT 3, laptops, and monitors.

The event was held at Hilton Colombo with the presence and grace of State Minister of Solar Power, Wind and Hydro Power Generation Projects Development Duminda Dissanayake, ministry officials, and Huawei Sri Lanka executives.


At the event, Huawei unveiled a new smartphone Huawei nova 8i – a phone with super camera, super screen and SuperCharge, smart watch Huawei Watch GT 3, powerful laptop Huawei MateBook 14 and Huawei MateBook D 15, and gaming monitor Huawei MateView GT. The specialty of these devices is that all can intelligently work together to create a "Super Device", which will significantly improve productivity and deliver a seamless smart life experience.
The event in parallel witnessed Huawei's latest range of IdeaHub Pro & IdeaHub S in 65 inches and 86 inches, a productivity tool for the smart office, bundled with intelligent writing, High Definition (HD) video conferencing and wireless sharing. Further Enterprise Business solutions such as the innovative AirEngine Wi-Fi 6 products that feature lightning speed as well as more stable coverage, roaming, and experience, helping enterprises of all sizes to achieve "100 Mbps@everywhere" continuous networking at scale and Huawei OceanStor Dorado V6 all-flash storage that sets new benchmarks in storage performance and reliability for enterprises' critical services, providing a compelling data service experience.

One of the other highlights from the product launch is Huawei's new commitment in digital power and its ambition in sustainable development.


Speaking at the event Huawei Sri Lanka CEO Liang Yi said, "Solar power is one of the cheapest sources of energy and Sri Lanka has strong solar resources. With the help and introduction of Huawei digital power technologies, we can increase the efficiency and safety of these new energies. Today, we bring our new digital solutions here to address the timely needs of industry and our partners to achieve success in energy efficiency that would also enable to accelerate digitalisation."


"As industrialists in the renewable energy sector, we have to use the best technology and focus on continuous improvement to ensure renewable energies can compete with traditional finite power sources," Kushan Jayasuriya alluded to the high potential of the island's solar power resource and encouraged the industry to work together for a 'Brighter future of Sri Lanka'.
Huawei unveiled latest digital power product, Huawei's Luna2000, the Smart Energy Storage System, which aims to help achieve sustainable energy targets of the country; to support a stable grid and night peak demands. Huawei is proud to be the first end-to-end smart PV solution provider with industry leading safety and join hand in hand with Sri Lankan Energy sector to develop a sustainable ecosystem.


Having been in operation in Sri Lanka for over 20 years, as a leading global provider of information and communication technology (ICT), Huawei Sri Lanka is serving all major operators and island wide Sri Lankan population. With integrated solutions across four key domains – telecom networks, IT, smart devices and cloud services – we are strongly committed to providing digital solutions to every person, home and organisation for a fully connected and intelligent Sri Lanka.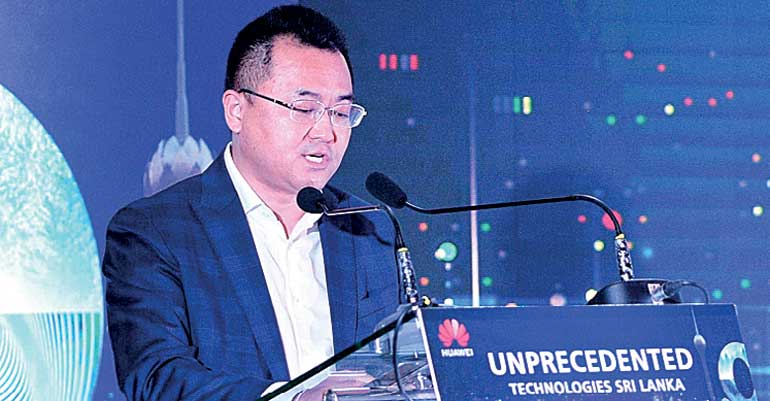 Huawei Sri Lanka CEO Liang Yi addressing the gathering at the launch of Huawei's Unprecedented Technologies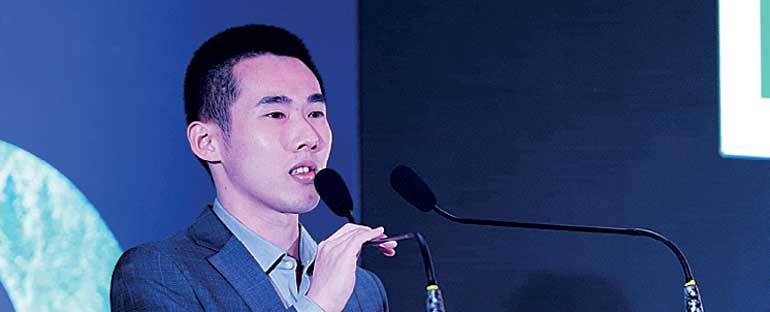 Huawei Consumer Business Group Country Head for Sri Lanka, Bangladesh, Nepal and Maldives Chris Cai introducing the latest nova 8i and other wearables and devices