Winners of Awards with speakers, judges and special invitees
---
The elite mobile app teams in Asia have been unveiled at the Asia Smart App Awards Summit cum Award Presentation Ceremony 2018/19, organised by The Hong Kong Wireless Technology Industry Association(WTIA), held on 20 June at Cyberport, Hong Kong.
WTIA follows up on the successful Asia Smart Apps Awards by joining forces with the co-organisers from the Mainland China, Israel, Indonesia, Japan, Korea, Malaysia, Philippines, Singapore, Taiwan, Thailand, Vietnam, Sri Lanka and Myanmar.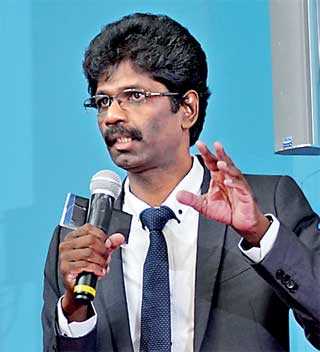 FASL President Rajkumar Kanagasingam delivers a presentation titled "Smart Applications Impact in the Fintech Sector"
Fintech Association of Sri Lanka(FASL) is the co-organiser in Sri Lanka.

Asia Smart App Awards (ASA) is aimed to recognise the excellence of innovative smart app development and provide a platform for top smart app professionals in the region to meet, share, collaborate and learn from each other.

Koji Ito from Japan, Paul Lim from Singapore, and Rajkumar Kanagasingam from Sri Lanka gave a speech at the summit among other 13 speakers. They shared their experience and insights, for example, Koji Ito introduced the latest trends of Japan ICT industry, Rajkumar Kanagasingam talked about topics like Smart Applications derived by Artificial Intelligence and Big Data and their impact in the Fintech sector.

The Presentation Ceremony followed right after the Summit. This year, there were 9 Asia Smart App Awards winners and 26 Certificates of Merits winners under three categories: the 'Public Sector Distinction', the 'Business and Commercial', and the 'Lifestyle, Social and Entertainment'. Winners were selected based on innovation and creativity, functionality and design, user experience or customer excellence, technical deployment of smart device technologies, market performance and competitiveness, and social impact. Koji Ito, Paul Lim and Rajkumar Kanagasingam were part of the final judging panel.

Apart from appreciating excellence in the field, the Asia Smart App Summit and the Asia Smart App Awards have successfully created a cross-border platform for enterprises from various countries to meet and communicate. These provide opportunities for professionals in the Asian wireless technology industry to exchange views that help to boost and create more possibilities for industry development.