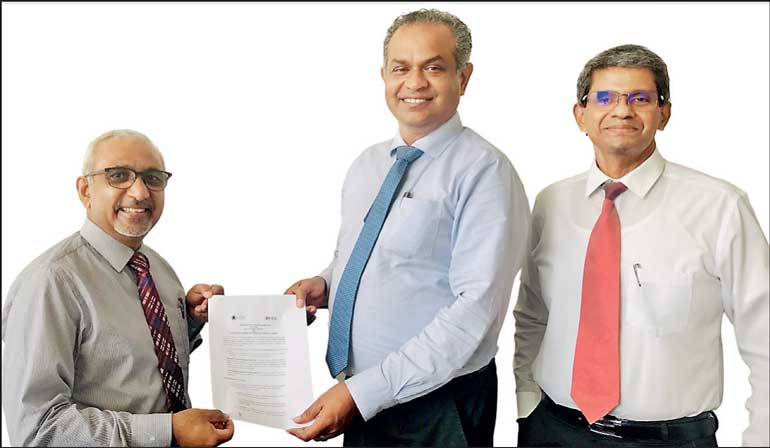 From left: (ISC)2 Colombo Chapter Sri Lanka President Sujit Christy, FITIS Chairman Dr. Prasad Samarasinghe and CEO Dinesh Sattrukalsinghe
---
A Memorandum Of Understanding was entered into between (ISC)2 Colombo Chapter and Federation of Information Technology Industry Sri Lanka (FITIS).

The move was with the prime intent to foster greater mutual cooperation and collaboration leveraging in on the initiatives championed by both institutions, to create a vibrant and dynamic information and cybersecurity ecosystem across the Nation, by enhancing the awareness across all allied professionals with the view to raise the bar on the allied spheres across Sri Lankan corporates both in the private and the public quarter.

(ISC)2 Colombo Chapter is a Sri Lankan non-profit organisation and is an affiliate of (ISC)2 an international non-profit membership association focused on inspiring a safe and secure cyber world. It promotes the community and networks specialists for information security who are resident or working in Sri Lanka or who have close ties to Sri Lanka.

The members of the chapter are (ISC)2 credentialed professionals who hold either a CISSP - the World's Premier Cybersecurity Certification, SSCP - the Premier Security Administrator Certification, CSSLP - the Industry's Premier Secure Software Development Certification and/or CCSP - the Industry's Premier Cloud Security Certification.

The Chapter also provides opportunities to non (ISC)2 credentialed holders to obtain an associate membership to connect with like-minded individuals with networking and career opportunities, educate members on the latest trends, new technologies and help prepare for (ISC)2 certifications to inspire the next generation of cybersecurity professionals (ISC)2 Colombo Chapter is the recipient of the Global Achievement Award 2022 in the Asia Pacific Region.

FITIS was set up in 1996 and functions as the apex body of the ICT industry in the country covering all major industry/technology verticals/segments.