Vajira Karunaratne appointed President
---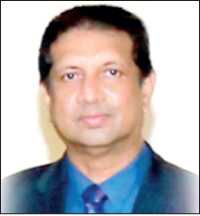 Vajira Karunaratne
---
The Federation of Information Technology Industry Sri Lanka (FITIS), the apex body of the ICT industry, appointed Vajira Karunaratne, an industry expert, to head the Education and Training Chapter at the virtual AGM recently.

The newly appointed Exco members of the FITIS Education and Training Chapter Executive Committee 2020/21 comprise President Vajira Karunaratne (IIT), Vice President Amila Bandara (ESOFT), Secretary Kanishka Manchanayake (Aim College), Treasurer Siyamala Sumanthiram (AAT), Assistant Secretary Sunimal Wickramasinghe (ACBT), Assistant Treasurer Sajeewa Ranasinghe (Gateway), Immediate Past President S. P. Romesh (Asian Business School) and Advisors Past Chairman FITIS and Past President E and T Chapter (Aims College) Dr. Kithsiri Manchanayake, Past President E & T Chapter (Metrix Institute) Dr. Viraj Pinto, Past President, E & T Chapter, Upul Dassanayake and Exco Committee: ICBT, VTA, Amazon College and Infinity.

Karunaratne who plays a vital role to improve the standards and the quality of IT education in Sri Lanka said he aims at improving communication between the IT industry and IT educators to create quality IT professionals for the industry which will help minimise the shortage of skilled workers in the industry.

"The irony is that in the present job market there are plenty of IT certificate holders without proper skill levels to match global needs. It is important to include six months to one-year internship to the diplomas and degrees offered by institutes to fine tune and enhance the skills of job seekers," Karunaratne said.

The Education and Training Chapter has over 30 reputed educational institutes in Sri Lanka as FITIS certified members.

Karunaratne said: "Digital technology is developing fast and there is a high demand for IT professionals locally and internationally with high salary scales. All industries in the world are using IT digital technology to carry out their businesses. For any career path IT knowledge is necessary to carry out an individual's job role. But we have noticed that many students, teachers and parents do not have a clear understanding of the importance, opportunities and career paths in the IT industry. We conduct IT career guidance seminars, workshops and webinars with the Ministry of Education, ICTA and other professional IT bodies to educate youth of the importance of ICT and to encourage them to choose the ICT field as their career path."

The FITIS Youth Club is a brainchild of Karunaratne to build a platform for youth to obtain exposure to the ICT industry.

"Students and youth who are interested in IT can join the FITIS Youth Club and avail many benefits offered to them," he said, adding that the Club conducts workshops, webinars to educate students. Youth Club members could join the volunteer club to work in FITIS initiated projects. The FITIS Youth Club is in the process of introducing a job portal.

The FITIS Education and Training chapter works closely with the Ministry of Education, National Institute of Education, Ministry of Higher Education, Ministry of Telecommunication, Digital Infrastructure, VTA, NAITA to improve the quality of IT Education and to ensure that the students who leave the Schools and other Educational Institutes are employable and will be able to contribute towards the economy of the country.

"I invite all IT educational institutes to team up with FITIS Education and Training Chapter to improve the quality of IT education and also to gain recognition and benefits through the participation in events organised by FITIS such as INFOTEL National IT Exhibition, career guidance seminars/workshops for school students/teachers, networking sessions with schools, educational institutes and professionals in the IT industry to expand business opportunities. FITIS acts as a mediator between members and the government on matters pertaining to members. It also provides members an opportunity to exchange views on matters affecting computer education and training," Karunaratne said.