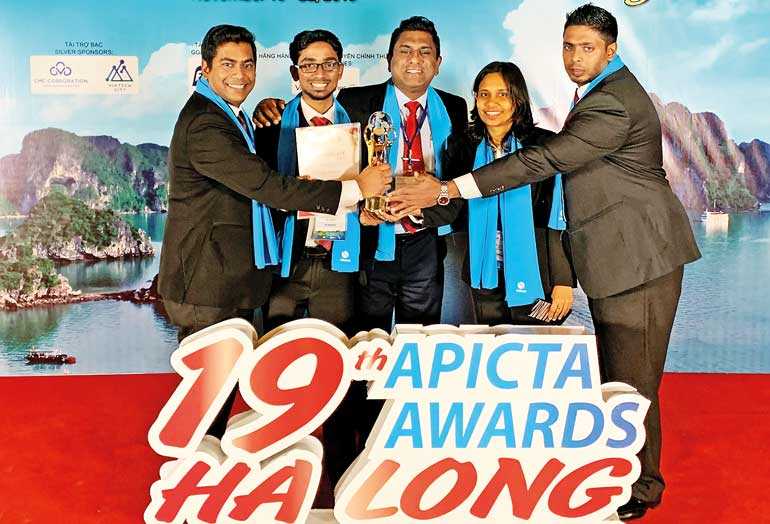 From left: Amila Perera, Naseem Sadiq, Epic Lanka Managing Director/Chief Executive Officer Viraj Mudalige, Nadeeshani De Silva and Rimaz Buhary with the APICTA Gold Award
---
Wins second APICTA Gold Award for empowering banks and financial institutions to offer seamless and consistent banking experience across multiple channels


Sri Lanka's premier Fintech solutions provider, Epic Lanka, clinched its second Gold Award at the recently concluded Asia Pacific ICT Alliance (APICTA) Awards 2019 in Halong, Vietnam for the Epic Unified Merchant Acquiring Hub.

The momentous win marks a significant milestone for Epic as the prestigious award was in recognition of its ground-breaking solution as the best Fintech product in the Asia Pacific region, beating several global fintech players from 16 countries and 347 products.

The Epic Unified Merchant Acquiring Hub, which competed under the category of Business Services – Finance and Accounting Solutions, functions as a single integrated top-of-the-line platform to manage all merchant acquiring touchpoints. It allows one to own and realise one solution to manage all merchant acquiring affairs with no limitation on the merchant licences, thereby enabling cross-channel payment transactions.

While providing the capability to analyse the information being fed in from different channels, the solutions help to build a detailed and accurate picture of consumer preferences and behaviour. Over the years, the system has continually kept pace with the changing business dynamics such as the incorporation of the LankaQR standards, in line with the national vision to progress towards a digitally inclusive financial ecosystem to facilitate merchant QR embedding support for Merchant Account Information across cards and current account savings account (CASA) payment instruments.

Commenting on the latest international recognition, Managing Director/Chief Executive Officer and the chief architect of Epic Lanka's award-winning fintech solutions Viraj Mudalige said: "We are extremely proud to receive our second APICTA Gold Award after becoming Sri Lanka's first-ever technology company to win a Gold Award at APICTA in 2008. A 100% Sri Lankan product built by local talent to cater to the financial services industry, Epic's Unified Merchant Acquiring Hub is the first and only software solution which enables comprehensive merchant acquiring operations. Our unique solution empowers local banks to offer a seamless and consistent banking experience across multiple channels to its consumers. The award we received for our product excellence is a true testament to the commitment and dedication of our engineers, and it is a tribute to their unwavering passion."

During the product development phase, a significant issue that Epic Lanka identified in the traditional banking and finance industry was the heavy capital outflow for operational expenses due to the predominant use of Electronic Data Capture/Point of Sales (EDC/POS) terminals at acquiring touchpoints. This solution prevents the outflow of capital, and foreign revenue can instead be brought into Sri Lanka by offering the solution to overseas clients. This could also be a confidence booster for all software engineers in the country.

Epic's innovative technology solutions are designed and developed by a pool of over 200 in-house engineers and experts. The organisation also owns an ultra-modern office infrastructure, which houses a modern research and innovation centre, software development and recreational facilities that enable employees to work and utilise their skills passionately and creatively.

Furthermore, Epic invests heavily in continuous knowledge assimilation and competence building, which it believes to be the pillars of its success over the past 20 years. The talented workforce at Epic Lanka continually contributes towards bringing a clear differentiation in customer satisfaction and product supremacy.

"Disruptive technology trends in banking and finance accelerate and transform the industry at a rapid pace every day. In an ecosystem where digital banking is becoming the norm, Epic's robust platform enables members of the local banking and financial services industry to engage in effective financial services delivery across various customer touchpoints as a local entity," Mudalige added.

The APICTA Awards is an international awards program organised by APICTA, which aims to increase ICT awareness in the community and assist in bridging the digital divide. Every year the awards ceremony brings together participants from across Australia, Bangladesh, Brunei Darussalam, China, Chinese Taipei, Hong Kong, Indonesia, Japan, Macao, Malaysia, Myanmar, Pakistan, Singapore, Sri Lanka, Thailand, Vietnam and Nepal. The Asia Pacific ICT Alliance is a collation of national ICT organisations representing their respective economies to build and enhance a mutually cooperative network to promote ICT, enhance technology innovation, capability and adoption and encourage the development of indigenous ICT solutions for the global market.

The Epic Technology Group is a technology leader in providing e-security and e-payment application development solutions to financial institutes and corporate organisations across the globe. Epic is an award-winning regional technology leader which has made vast strides in terms of adopting and delivering modern technology across the Financial Services Industry (FSI), information system security, enterprise digitalisation, mobile applications and e-governance sectors, both locally and internationally.

Established in 1998, Epic is committed to innovate, develop and implement world-class IT solutions in the secure electronic payments, information systems security, mobile enterprise automation and secure document personalisation domains.

Equipped with ISO 9001:2008 and ISO 27001:2013 recognition, Epic is also a CMMi Level 3 certified company. Epic has won an unprecedented number of national and international accolades over the years that include the highest number of awards won by a single company at the National Best Quality Software Awards.