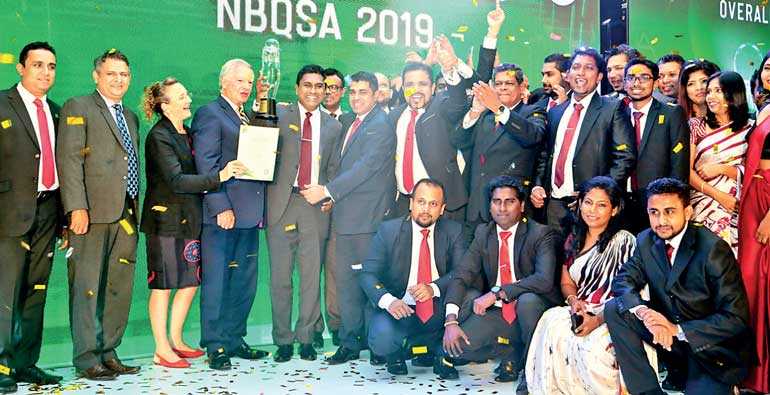 Epic Lanka Managing Director/CEO Viraj Mudalige accepts the Overall Gold award at NBQSA 2019
Wins National Overall Gold award for Epic Digital Transformation Suite
Secures 12 awards including four Gold awards and four Silver awards
Wins award for Best Mobile Payment Application of the Year
Sri Lanka's premier technological conglomerate, Epic Lanka Ltd. won the coveted 'Overall Gold Award' and 11 other accolades at the recently-concluded 21st National Best Quality ICT Awards 2019 (NBQSA). Conducted by the Sri Lankan chapter of the BCS The Chartered Institute for IT, the Overall Gold Award was presented to Epic Lanka for its innovative 'Epic Digital Transformation Suite'.

Displaying its technological prowess and dominance like in previous years, Epic took the Golds in the 'Citizen Services and Digital Government in Public Sector and Government', 'Finance and Accounting Solutions (Fintech) in Business Services' and 'Banking, Insurance and Finance in Consumer' categories for Epic Digital Transformation Suite, Co-operative Banking System and Android Terminal Experience Management.

Epic also won a special award for 'Best Mobile Payment Application of the Year' for their Low-Value Transaction Platform, a common payment platform that allows customers and merchants alike to initiate and receive electronic payments of low value using a smart device or a feature phone.

Epic's National Payment Collection Platform, CNP Shield and EpicSure won Silver awards in 'Citizen Services and Digital Government in Public Sector and Government', 'Security Solutions in Business Services' and 'Research and Development Project' categories respectively while Epic Automated Bill Settlement (ABS) System and Epic CoreBiz took away Merit awards in 'Banking, Insurance and Finance in Consumer' and 'In-house' categories, making it 12 accolades in total.

Expressing his views, Epic Lanka Executive Chairman Dr. Nayana Dehigama said: "These accolades reaffirm our commitment to our brand promise of digital transformation, as we continuously update and improve our processes and product offering to deliver superior service to our stakeholders. All the hard work put in at many levels to build innovative and superior Fintech solutions for our local and global customers have paid off. These awards for product excellence are a tribute to the passion of the entire Epic team."

Commending the untiring efforts of his software architects, Epic Lanka Managing Director/CEO and Chief Architect Viraj Mudalige said: "I would like to congratulate all our winners at this year's edition of NBQSA; it is great to see our team of software architects raising the bar of superior product engineering every year with state-of-the-art Fintech solutions.

"At Epic, our mission is to empower people and organisations through our world-class solutions, while enabling Sri Lanka's digital transformation initiatives along the way. These awards reflect our teams' hard work, innovative thinking, and meticulous planning, which play a collective role of strengthening Epic Lanka's position as Sri Lanka's number one technology conglomerate."

Epic's innovative technology solutions are designed and developed by a pool of 300 in-house engineers and experts. The organisation also owns an ultra-modern office infrastructure, which houses a modern Research and Innovation Centre, software development and recreational facilities that enable employees to work and utilise their skills passionately and creatively.

Epic heavily invests in continuous knowledge assimilation and competence building, which they believe to be the pillars of their success over the past 20 years.

The talented workforce at Epic Lanka constantly contributes towards bringing a clear differentiation in customer satisfaction and product supremacy. All products nominated by Epic this year were developed to address a specific need in the market and cater to all segments of the socioeconomic pyramid. Eight Epic products that won at NBQSA were nominated by the BCS to represent Sri Lanka at the Asia Pacific ICT Awards (APICTA) which will be held in Vietnam this year.

NBQSA provides recognition to outstanding achievements of individuals and organisations in Sri Lanka who have developed high-quality ICT products. It delivers a window to gain international recognition for local ICT products and services, improve their quality to meet international standards while identifying the talents of local software architects, and provide them with an opportunity to develop their skills in ICT. The Sri Lankan section of BCS organises this gala awards ceremony since 1998 and nominates the national participants for the Asia Pacific ICT Awards (APICTA).