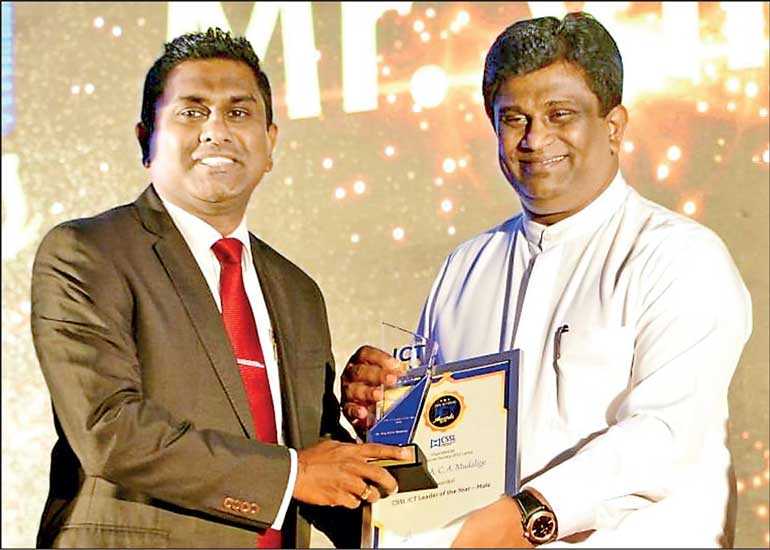 ---
Epic Lanka Managing Director/Chief Executive Officer and Chief Payment Architect Viraj Mudalige was recently conferred with the prestigious 'ICT Leader of the Year' award at the National CSSL ICT Awards 2019 for spearheading and designing an array of breakthrough technology platforms for the local and global banking and financial services sectors. Held at Shangri-La Colombo, the coveted accolade was presented to Mudalige by Digital Infrastructure and Information Technology Minister Ajith P. Perera.

Mudalige has over 20 years of experience in the fields of Electronics Engineering and Information Technology. He is an award-winning Payment Solutions Architect in FinTech solutions, winning over 60 national and international accolades, including Sri Lanka's first-ever Gold award at the Asia Pacific ICT Awards (APICTA).

Mudalige has been instrumental in creating a workforce at Epic with domain expertise in Fintech solutions. A Chartered Engineer by profession, he received his graduate award in Electrical and Electronics Engineering from the UK. Mudalige also holds two master's degrees in Information Technology and Business Administration.

Commenting about his life-time recognition, Mudalige said: "I am truly honoured to be recognised as the ICT leader of the year at the National CCSL National Awards, one of the premier ICT awards ceremonies in Sri Lanka. Under my leadership, Epic became a strong IT brand in Sri Lanka, and Epic Lanka completed significant projects in Fintech and exported our domain expertise in Fintech to the APAC region. I consider this recognition as the pinnacle of my career, and I dedicate this award to my family, parents and my second family – Epic."

Mudalige's first breakthrough came in 2004 when he introduced the concept of branchless banking to the world. Considered as a channel innovation to reach the masses, Epic Branchless Banker provides an effective platform for Banks and Financial institutions to deliver a variety of banking services online and in real-time.

With the introduction of this novel concept, Epic helped local banks to significantly expand their last-mile reach and deliver service excellence to their customers at their doorstep, regardless of the geographical location. After successfully implementing branchless banking in Sri Lanka, Mudalige took a step further and rolled out Branchless Banking in Malaysia. It enabled several Malaysian banks to deploy thousands of field officers to offer online real-time banking through hand-carried mobile devices to reach Malaysia's unbanked and under banked segments. In 2008, Mudalige brought Sri Lanka's first-ever Gold award home at the Asia Pacific ICT Awards (APICTA) for Branchless Banker.

Some of Mudalige's other breakthrough innovations include Epic Terminal Line Encryption (TLE) which is an extremely secured communication channel encryption solution that offers increased security when transferring payment transaction data online, Epic CMS which a fully-fledged Card Management System designed on a modular basis for card issuance and merchant acquisition, Android Terminal Experience Management Hub, Automated Transaction Reconciliation and Dispute Management Solution (DMS), Omni-Channel Synchronizer (OCS), Epic 3-D Secure and Epic Mobile Wallet.

Mudalige is a firm believer in developing a talent pool with industry-specific domain expertise. According to him, most efforts have been only concentrated on increasing the number of software engineers rather than building domain experts to strengthen key industry vectors of Sri Lanka through product engineering including tourism, agriculture, apparel, manufacturing, hospitality, and healthcare.

This has resulted in major cash outflows from Sri Lanka to purchase ICT solutions from global software vendors. "Sri Lanka is blessed with a talented pool of software engineers. The problem, however, is that our local graduates do not have domain expertise to demand high-paying jobs or boost the confidence of key industries to invest in local ICT companies.

"Yes, developing a pool of talented software engineers is very much important for the industry to achieve its target of $ 5 billion in exports, but it is not the right strategy. You need to groom them to become domain experts of different industries, enabling them to become true forces that drive Sri Lanka's economy," Mudalige opined.

Organised by the Computer Society of Sri Lanka (CSSL), National CSSL ICT Awards is an award ceremony conducted with the view of recognising and motivating those who have served the information communication technology industry in Sri Lanka. These awards intend to encourage, recognise and celebrate excellence in ICT practice by rewarding the best and the finest of ICT professionals.

National CSSL ICT Awards include calling nominations/applications, conducting selection and organising an award ceremony; however, the final selections will be made by a panel of experts from the ICT industry as well as academia. The Computer Society of Sri Lanka is the premier organisation dedicated to promoting and improving professional standards in the Information and Communication Technology sector since 1976.