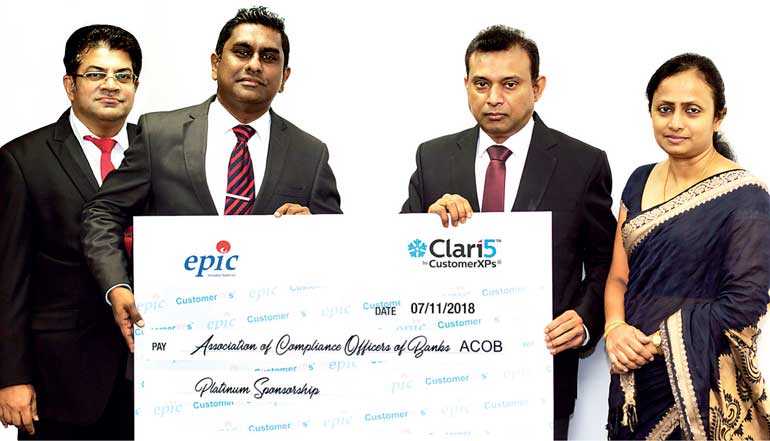 From left: Epic Lanka Senior Vice President Sanjeeva Perera, Epic Lanka Managing Director/CEO Viraj Mudalige, Association of Compliance Officers of Banks President Sudarshana Jayasekara and Association of Compliance Officers of Banks Secretary Dilani Sooriyaarachchi
Sri Lanka's first compliance convention by ACOB
Coinciding with the local banking industry's progressive measures towards achieving a strong and cohesive compliance culture, Epic Technology Group and CustomerXPs Software stepped forward as Platinum sponsors for the Compliance Symposium 2018, Sri Lanka's first and biggest compliance convention.

Organised by the Association of Compliance Officers of Bankers Sri Lanka (ACOB), the Compliance Symposium 2018 will take place at the Cinnamon Grand hotel on 13 November. Senior representatives of Epic Lanka and CustomerXPs witnessed the landmark sponsorship as Epic Lanka Technologies Managing Director/Chief Executive Officer Viraj Mudalige presented the sponsorship cheque to ACOB President Sudarshana Jayasekara.

"As Sri Lanka's premier technology conglomerate, it is our distinct pleasure to join hands with Association of Compliance Officers of Bankers Sri Lanka in their efforts to host Sri Lanka's inaugural compliance convention," commented Mudalige.

"Over the past few years, we have seen a number of manifestations of sophisticated money launderers across the globe that makes bankers work around the clock and re-think their strategy and execution to curb these attempts. Thus, compliance and corporate governance have become two important factors for banks and there has been an increase in investments on anti-money laundering (AML) compliance and fraud prevention measures by these organisations to fortify their perimeter defences."

"As the biggest compliance convention of Sri Lanka, we believe that Compliance Symposium 2018 will be an ideal opportunity to bring together the best local and international minds together on a single platform and deliberate on the many challenges and opportunities facing banks and other stakeholders of the industry," Mudalige added.

"The regulatory compliance landscape is dynamic and constantly evolving. Besides domestic compliance mandates, there are several critical global mandates which financial institutions need to comply with. Advanced real-time, cross-channel fraud + AML/CFT technology solutions such as Clari5 use a human brain like approach to help banks stay compliant proactively as well as mitigate fraud risk. We are excited to be at the upcoming Compliance Symposium to share more details on how banks can radically change the way they address risk and compliance," said CustomerXPs CEO Rivi Varghese.

The Association of Compliance Officers of Banks (ACOB) is an institution, which was established in 2010, with the intention of a building a forum to promote a common understanding among compliance officers on regulations as well as share experiences and knowledge across banks in building effective compliance systems and procedures. The steps taken to form ACOB resonated positively when the Prevention of Money Laundering Act and the Financial Transactions Reporting Act were introduced, which required financial institutions to have in place a Compliance Officer who is responsible for establishing procedures and systems in respect of Know your Customer (KYC), customer due diligence, training, retention, reporting, etc.

Established in the year 1998, Epic Technology Group today is a leader in providing world-class state-of-the-art ICT solutions to financial institutes, governments and corporate organisations across the globe. Epic is an award-winning regional technology leader that has made vast strides in terms of adopting and delivering modern technology in the verticals of Financial Services Industry (FSI) Applications, information system security, enterprise digitaliszation, mobile applications and e-governance, both locally and internationally

Armed with ISO 9001:2008, ISO 27001:2013 recognitions Epic is also a CMMi Level 3 certified company. Epic is an award-winning technology leader of international repute with an unprecedented number of national and international accolades won over the past years that includes the highest number of awards won by a single company at the National Best Quality Software Awards for five years.

CustomerXPs endorsed Category Leader in Financial Crime Risk Management Systems for Enterprise Fraud by Chartis Research, Winner of Best Fraud Detection Product award by Risk.net and ranked consistently in Chartis' RiskTech100 rankings and quadrants, CustomerXPs redefines real-time, cross-channel banking Enterprise Fraud Management using a central nervous system approach to fight financial crime.

Harnessing the combined power of automation, AI, decision sciences and real-time decisions, CustomerXPs' flagship enterprise product Clari5 processes over 10 billion transactions, manages over 450 million accounts and reliably secures 4% of the global population's banking transactions. With 200 million accounts at a single site, CustomerXPs has the world's largest implementation of a fraud management solution. Marquee banking customers across 15 countries who trust CustomerXPs for driving their fraud management strategy are recipients of global industry acclaim, including Banking Technology's Best Use of IT in Risk Management/Regulation and Celent's Model Bank of the Year.