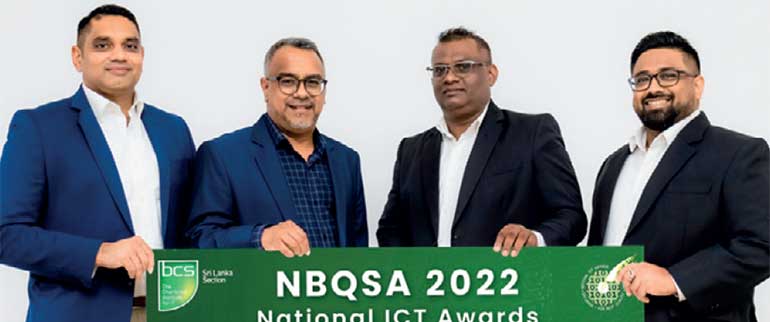 From left: EY GDS Sri Lanka Brand Marketing and Communications Leader Shehan Kumar, EY GDS Sri Lanka Location Leader Hariharan Padmanabhan, BCSSri Lanka Section Chairman Vajeendra S. Kandegamage, and National ICT Awards Chairman Sanharsha Jayatissa
---
EY Global Delivery Services (EY GDS) Sri Lanka, part of the global EY network of service delivery centres with a focus on innovation, technology and process improvement, joined hands with the 24th National ICT Awards – NBQSA 2022 held recently to recognise outstanding achievements in Sri Lanka's ICT (Information and Communications Technology) sector.

Commenting on the collaboration, EY GDS Sri Lanka Location Leader Hariharan Padmanabhan stated: "We are proud to be a sponsor for this year's NBQSA awards, which is one of the major national awards events dedicated to the ICT sector.

"It is important to us to support the local ICT sector and present its professionals opportunities to thrive and grow. These national level award events set the stage for ICT innovations to receive recognition, helping ICT organisations attract investors, individuals find job opportunities – and developing the sector overall."

"We highly appreciate EY GDS Sri Lanka for making this awards ceremony a success. Special credit should be given to the organisation for being a part of this national awards event during a highly challenging period for the country," added National ICT Awards Chairman Sanharsha Jayatissa. Speaking on the same, BCS Sri Lanka Section Chairman Vajeendra S. Kandegamage stated: "We are happy to note that EY GDS Sri Lanka has joined hands with NBQSA 2022 as the Exclusive Innovation Sponsor. It is a special honour for us to collaborate with a global organisation for this year's awards ceremony."

The National ICT Awards – NBQSA 2022 competition is the benchmark for Sri Lanka's ICT industry. It showcases, recognises and rewards individuals who develop outstanding ICT products and services and provides an opportunity for them to receive international recognition.

The NBQSA competition has been hosted by the Sri Lankan Section of BCS since 1998 and opens doors for the locally developed ICT products to reach international quality and standards. More details and announcements on the event can be obtained from the official website of the NBQSA www.nbqsa.org.

As Sri Lanka's foremost Chartered IT (Information Technology) Professional body, BCS strives to facilitate improvements in the quality and standards of products and services in the ICT industry in the nation. Upon recognising the best products and services, BCS facilitates business matching and investment promotions to help developers, companies, and the ICT industry to grow to unprecedented levels. The aim of this facilitation is to raise the Sri Lankan ICT industry to be on par with international standards.