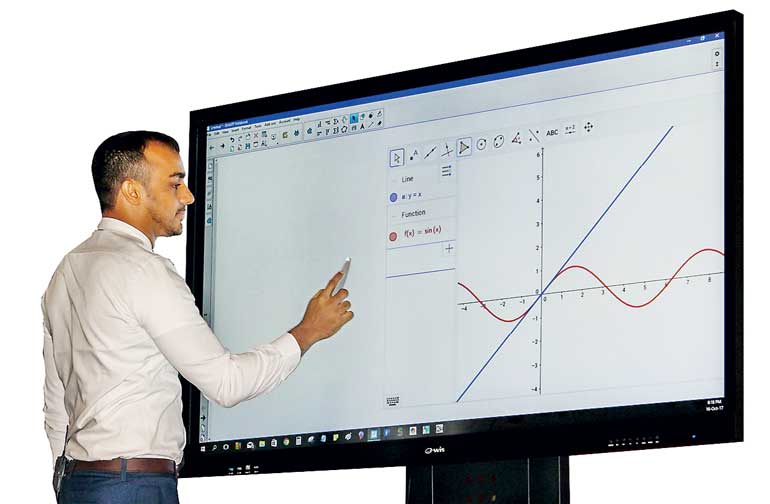 The EWIS Group, a pioneer within Sri Lanka's ICT industry, recently announced the launch of its Smart Interactive Display, the combined Digital Screen and Open Pluggable Specification which can establish the foundation of SMART Classrooms.

This Smart Interactive Display can co-exist with the traditional whiteboard or blackboard, transforming the way teachers educate students in a classroom in addition to providing a better and more interactive learning experience for students.

This all new Smart Interactive Display, which is the latest addition to EWIS's education product portfolio, was first launched at Ladies' College, Colombo 7 - being the first school in Sri Lanka to launch and experience the benefits of SMART classroom solutions in all classrooms.

"A SMART Interactive Display can be used by teachers and lecturers to adapt a more holistic teaching methodology – moving away from the traditional rote method of teaching," commented E-Wis Information Systems Chief Operating Officer Nirmal Pieris.

"With the help of this all new interactive device, teachers can make education more fun, using explanatory videos while writing on it just like they would on a normal board. In addition, they will have the ability to utilise the board by installing interactive tools or applications, upload home grown content, download interactive content which can be obtained online or use interesting features like automatically plotting graphs through a simple mechanism of clicking and dragging an equation on to a graph, creating educational activities with the help of software and shaping or having a more real life, three dimensional, visual-based teaching methodology," said Pieris. The very first SMART classroom project included providing the school with a strategy to adopt this new way of teaching and learning where a building block approach is initiated rather than going in for a full-fledged solution. This included supplying over 54 Smart Interactive Display devices, training the teachers along with many of the school's officials for successful implementation.

EWIS ensured that the whole system was SMART, safe and secure – where teachers have total control of the whole SMART system which can be password-protected.

The EWIS Smart Interactive Display combines the features of a Smart Television and a Computer. The main features include the 10 Finger Multi Point Touch Facility, with Higher Definition Resolution which has the capacity to even play Ultra High Definition videos and multiple ports which can be utilised to connect external displays or storage devices. Based on the customer preference, the device can be provided in three screen sizes (65", 75" and 85").

Since it made its foray into the IT industry by paving the landscape for IT products and services which were relatively new to Sri Lanka, EWIS continues to revolutionise and transform the industry with a reputation for reliability, quality solutions and services and unparalleled dedication in ensuring customer satisfaction.

Over the years, the company continues to integrate its existing processes and enhance value creation across all its businesses as a total IT solutions provider based on its corporate philosophy of being a total IT solutions company, maintaining sincere and strong business relationships to ensure unmatched service standards and most importantly, a passionate and proud Sri Lankan organisation.