---
Digital transformation across the whole ecosystem is pivotal for Sri Lanka to leverage on the ongoing technological revolution and perfectly position itself for the next phase of development, said Partner and Digital, Fintech and Tech Transformation Leader EY Advisory Africa, India and the Middle East, Sachin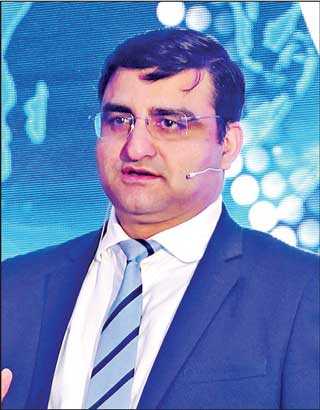 Partner and Digital, Fintech and Tech Transformation Leader EY Advisory Africa, India and the Middle East, Sachin Seth
Seth, while addressing the first-ever API Asia Conference at the Shangri-La Colombo on 2 October.

As consumer behaviour, preference and expectations continue to change, competition across industries to stay ahead of the game has caused disruption across multiple longstanding industries such as transportation, manufacturing, lodging, communication and entertainment. He continuously stressed that disruption took place not only within industries but also through the convergence of multiple industries such as banks, telecom and retail.

Speaking about the retail industry being involved in the financial services sector, he mentioned a case where a retailer was evaluating the option of offering credit to customers based on customer profile. This would result in the retailer acting as the de facto credit provider, resulting in a reduced need for credit cards and short-term loans from banks.

Addressing the forum, Seth stated that there was a change waiting to happen in every industry, which may be a result of technological interventions or of regulatory and risk issues such as data privacy causing disruption in many business models. He quoted published data that showed that nearly 40% of businesses may be disrupted over the next 10 years if such companies did not adapt to the rate of change in this era of technological evolution.

The enhancement of existing financial service technologies, along with the adoption of new technologies, had the potential to dramatically transform client experience. He elaborated on how the adoption of new technologies such as Blockchain, cognitive computing, advanced robotics and quantum computing, in time would lead to the creation of dramatically new capabilities, taking super products, services and ways of doing business to a world beyond digital.

He further outlined how B2B lending was gaining greater traction in the UK market, which could at least partially replace the banking industry with better incentives provided within the system. This is in spite of the investments made by banks on underwriting rules and KYCs.

He elaborated on the possibility of the banking and financial services industries being disrupted through innovative business models and innovative methods which we may not see today as a viable model.

He stated that considering the maturity of telecom companies in Sri Lanka, and their wider reach and penetration in comparison to the banking industry, there was the potential for Last Mile payment services gaining even greater traction in the country. In addition, he also discussed how telecom companies were playing an active role in financial service companies to bring together services and provide innovative customer experiences.

Seth asserted that a multitude of start-ups and fintech innovations that had spring up in India were disrupting the traditional financial services market and bringing financial inclusion to the rural masses. He also discussed how non-financial service companies such as messaging platforms were moving into the financial services landscape, citing Chinese company We-Chat as an example.

Seth continued to explain how businesses could ideate, create and operationalise a first-of-its-kind digital lending platform, using the example of innovative global lending platforms that had disrupted the Indian lending space.

He revealed EY's contribution to bring it to life within a short period of about five to six months, where the solution enabled customers to apply for a loan and have the cash in their account within three minutes, subject to them meeting risk criteria. This disruptive innovation resulted in huge market growth in providing micro as well as business credit growth in the organisation.

He discussed how Sri Lankan companies could refer to these cases to overcome challenges faced within the local lending market.

While discussing all these impressive innovations, he also spoke about areas where attention had been shown by both regulators and consumers to topics such as privacy and cybersecurity.

In his concluding remarks, he discussed the multiple projects that EY had carried out across the financial services and Fintech landscape to help innovative and disruptive companies execute their strategies.