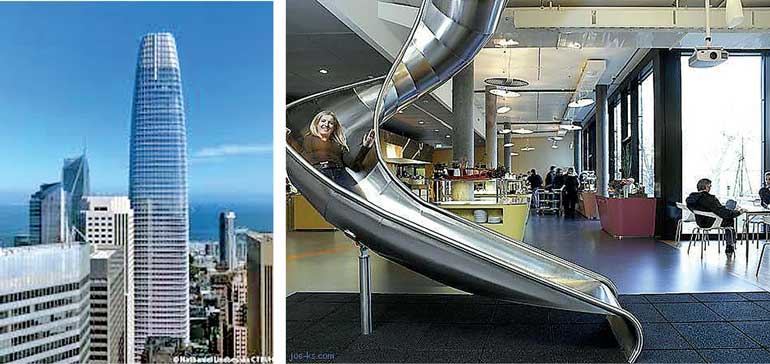 Sprawling office complexes may be a thing of the past. Left: Salesforce HQ; right: Googleplex
---
Sysco LABS General Manager Rasika Karunatilake
---
In the wake of COVID-19, most organisations have to confront a new normal; the death of the 9-5 regime with indications of never returning to this scenario, forcing a reset of major work trends in a post pandemic world.
This four-part serialised article delves in to the future of work and emerging trends with fresh insight and impact it is likely to have on us all.

In Part 3, the author explores how familiarity with video communication has forever changed the way individuals and businesses connect – with business travel dramatically reducing. Post COVID-19 work arrangements also provide a broader scope for diverse talent including more opportunities for women.

With the rise of remote work, one of the most exciting trends that will be seen is a democratisation of opportunity and movement of skills around the globe. Finally, the pandemic presents an opportunity to accelerate the use of smart building technology to ensure workplaces support flexibility and adaptability, optimising space allocation and social distancing.
7. Video communications and business travel
The world is now familiar with video communications and way businesses and individuals communicate will be forever changed. The future of video communications could see improvements to predictive text and voice to text transcription could be the next major migration. Videoconferencing is limited in terms of conveying an individual's entire presence and developers are working to transition meetings from videoconferencing platforms to virtual reality platforms.

Global travel saw a drastic reduction in 2020. A new study: Idea Works Company 2021, 'How Airlines and Travellers will adapt as the Pandemic recedes' and reported by the Wall Street Journal takes a detailed look at the long-term impacts that COVID-19 could have on business travel.

The conclusions are stark: between 19%-36% of business travel will never return to the skies. Companies will continue transitioning towards remote meetings and be mindful about the cost of business class travel; the precise business value will be assessed and only the most essential travel requests will be approved. There will also be increased scrutiny of healthcare risks prevalent at the travel destination as companies focus on more local and immediate travel.
8. Diversity and Inclusion
As work arrangements in the post COVID-19 era are determined, there is an increased requirement to create inclusive workplaces that allow for a broader scope of diversity - gender, ethnicity, age, physical disabilities, cognitive diversity, sexual orientation. Work cultures need to be inclusive to enable diverse talent to thrive and feel valued and respected.

As modern organisations are challenged in attracting and retaining top talent, they continue to underutilise a major source: women. Providing greater flexibility in terms of when and where people work may provide opportunities to improve work-life balance, which may be particularly attractive for working mothers. Through remote working, businesses can also benefit by opening up access to alternate and diverse talent pools like people with disabilities or retirees. The opportunities for distributed work will allow organisations to challenge the unconscious biases that impact the recruitment process.
9. Democratisation of skills and opportunity
Since the advent of the pandemic the volume of job searches using the 'remote' filter on LinkedIn has increased by approx. 60%; the share of remote applications has also increased nearly 2.5 times globally in the last 12 months. The drastic increase in remote work in an increasingly virtual world has reduced barriers for people to connect. We are likely to see a democratisation of opportunity and a movement of skills around the globe.

Organisations will be able to source talent from a global pool of candidates and thereby increase scope of services. They will also be able to recruit for skill sets not available locally and advertise tax benefits and currency advantages to attract top talent. As the effect of the pandemic diminishes voluntary turnover is also set to increase. The work from home environment presents some unique challenges and talent leaders will also need to come up with creative employee retention strategies to mitigate voluntary turnover.
10. Future of workspaces
Enterprises have now begun reflecting on the size of their real estate footprint. Salesforce's one million square ft. headquarters which was recently named the tallest building in San Francisco has minimal occupancy as thousands of employees heeded the work from home directive. Other Silicon Valley tech giants such as Google have made enormous investments in their offices and workspaces over the years to include facilities for employees' such as cafeteria's, nap-pods, bowling alleys and creative workspaces.

With a hybrid model of working where a select group of employees come into work no more than two to three days per week, it now seems increasingly likely that some companies may downsize their offices. There may be less demand for real estate in cities that have been designed for the 9-5 worker.

The future of work may see a shift towards quality workspaces and buildings that are safer more technologically advanced and deliver a better experience for users. There will be demand for 'pandemic-proof' and certified workspaces fitted out with anti-microbial materials and UV light, sophisticated ventilation systems and smart technology. Visitor management systems will employ contactless voice, iris, and facial recognition technology while thermal imaging cameras will gauge temperatures. Employees may not have dedicated seats as employers embrace 'hotseat' or 'hotelling" concepts.

New workspace designs will focus on activity-based working and may incorporate features like breakout spaces in order to encourage camaraderie and team building; biophilic fit-outs will serve to improve wellbeing through the connection with nature as organisations aim to create workspaces that are attractive to employees. The tremendous benefit to organisations doubtless, will be substantial savings on real estate costs, operational expenses and utilities. Smaller companies may forego offices entirely opting instead to organise periodic 'offsite' events for employees to socialise or utilise co-working important face-to-face meetings.

Organisations that get it right may emerge from the crisis ahead with remote working policies that employees prefer, and workplaces specifically designed to be vibrant, safe and collaborative.

Post COVID-19 workspaces that are safe and foster collaboration
---
[Rasika Karunatilake is the General Manager at Sysco LABS – the technology innovation arm of Sysco Corporation (NYSE: SYY). Sysco Corporation is the global leader in selling, marketing, and distributing food products, equipment and supplies to the foodservice and hospitality industries. He counts 22 years of experience in the tech industry and is championing 'Future of work' initiatives at Sysco LABS. He can be contacted at rasika@syscolabs.com.]
---