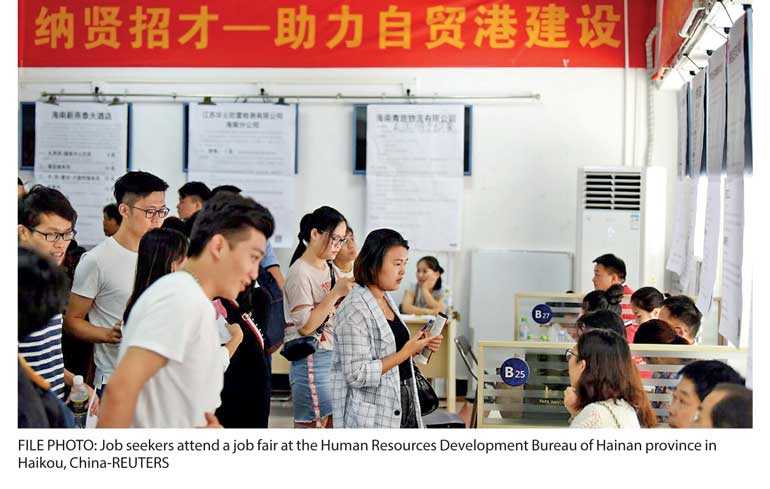 BEIJING (Reuters): China on Wednesday pledged to expand its $3.8 trillion digital economy and create jobs in new sectors such as big data and artificial intelligence (AI) as the world's second-biggest economy looks to shift away from a reliance on polluting heavy industries.

China is in the midst of a long-term restructuring that has seen the decline of low-end industries and the emergence of higher-value factories that make products from robotics to drones.

But an intensifying trade war with the United States, China's biggest trading partner, has stoked concerns that Beijing's long-term plan to shift to high-end manufacturing under its 'Made in China 2025' plan could be jeopardised.

In recent months, Chinese government departments and agencies such as the National Development and Reform Commission (NDRC) have been affirming their commitment to long-term restructuring, which Beijing sees as a means to rely less on trade and other external growth drivers.

China will make further inroads in its digital economy including the internet of things, big data, clouding computing and AI, the NDRC said on Wednesday.

Those sectors will become new drivers of job creation by 2025, the state planner said.

China should embark on a path of self-reliance with the rise of unilateralism and trade protectionism, state-controlled People's Daily quoted President Xi Jinping as saying on Wednesday as he conducted an inspection tour of factories in the rustbelt province of Heilongjiang.

This is not a bad thing, Xi said, as China will have to rely on itself in the end.

Chinese state media has accused Washington of using trade to suppress the country's development.

The NDRC said it will also step up financing support to help new industries expand, including drawing funds from capital markets.

Earlier this month, it signed an agreement with China Development Bank, a major policy lender, to offer 100 billion yuan ($14.55 billion) in financial support for the digital push.

China's digital economy rose 18 percent to 26 trillion yuan ($3.8 trillion) last year, equal to a third of the country's gross domestic product (GDP), according to the China Academy of Information and Communications Technology.

Traditional sectors will be digitalised, driving more workers to switch jobs, said the NDRC, adding that China will also look to attract foreign talent.

Beijing is banning the addition of new capacity in low-end manufacturing sectors such as textiles, furniture, food and chemicals, the Beijing Daily said on Wednesday.

But manufacturing of new energy vehicles and industrial robots will be allowed.

The digital economy is also expected to help modernise agriculture, with China keen to rejuvenate aging rural areas, according to the NDRC.