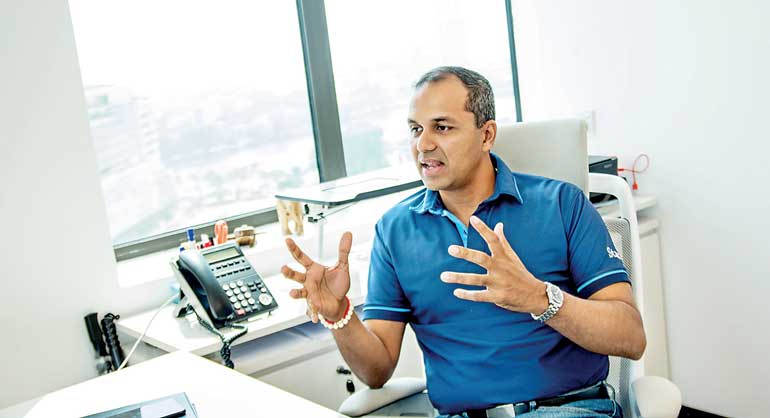 Founded in Boston almost 25 years ago, Stax has earned a reputation for delivering rich insight-driven consulting solutions that open up incremental and transformative growth opportunities for clients. Its clientele spans a diverse range from mid-sized corporates and family businesses to some of the world's largest investment funds and Fortune 500 companies. With the recent focus on the Sri Lankan market, the company has become the country's leading strategy consulting firm, while being a highly trusted partner for many local industry leaders.

Over the past few decades, technology has played an increasingly significant role in all aspects of business and commerce. Driven by the proliferation of internet, mobile, cloud computing and big-data, digital transformation has become imperative for all businesses, regardless of size or industry.

Further, consumers are adopting technological innovations faster than ever before. While it took five decades for 50M users to adopt the original telephone, it only took two years for the same number of people to starting using Twitter. With a global marketplace in the palm of their hands, the digital economy has removed all barriers to consumer mobility.

Stax Managing Director Dr. Kumudu Gunasekera believes that Sri Lanka too is now on the verge of a new growth paradigm, one fuelled by technological innovation. He went on to say that for businesses to thrive, or in that matter to survive, in this ever-evolving corporate world, they should align their strategic business plans with cohesive digital strategy.

Stax is well positioned to support local businesses along this journey, by leveraging its extensive global experience coupled with local expertise to deliver a unique suite of digital solutions that align customer preferences and market requirements. Drawing upon his recent work, Dr. Gunasekera elaborated on the most notable trends playing out in the domestic market, and outlined how Stax's unique approach and positioning could benefit potential clients. Following are excerpts:


Q: How has digital impacted global business?

A: Today, economies, business and communities have become interconnected in a way that has never been seen before, with entire generations being born and raised in this new digital age. Historically, digital was viewed as a great source of incremental value, but not necessarily as a key pillar of future growth. However, this new generation of people and technology brings with it a revolutionary shift in the way that business is carried out.

More than at any time before, we can analyse developments in real time, and generate data at a more granular level. For consumer brands and retailers, this has manifested in the proliferation of omni-channel approaches to supply chain management, but its ramifications extend into every facet of a business, from operational excellence to customer engagement opportunities.

To remain competitive in today's world, radical digital reinvention is needed. Simply having an e-commerce platform or digitising customer interactions is insufficient. Real digital reinvention requires rethinking the business itself. These circumstances create unprecedented challenges, but are also capable of yielding organisation-defining success for those firms that can analyse trends and understand their meaning; taking agile decisions that will redefine their core value proposition.

That is why we believe that now is the best time to be making investments into the digital space, and to explore opportunities for areas of future investment as well. There are already numerous examples of how the changing face of digital is driving economic growth and levelling the competitive playing field, enabling anyone from start-ups to established players to disrupt and compete head-to-head with market leaders through the deployment of a smart digital strategy.


Q: Do you expect digital to play a similar role in the Sri Lankan context?

A: Certainly! Even though internet, mobile technology, and big-data have played a role in Sri Lankan business over the past decade, I think it is safe to say that we have reached a new paradigm in which technology has truly become a pervasive influence across every aspect of modern life. With mobile penetration at ~130% and 5M active internet users, Sri Lanka is fast moving towards becoming a digital pioneer within the region.

Further, based on Sri Lanka's Digital Economic Strategy, the government aims to drive future growth through digital innovation by focusing on three broad industry sectors - agriculture, tourism and manufacturing. The government's goal through this strategy is for the Digital Economy to raise the country's GDP by1% to 3% within the next two years.

Capitalising on these opportunities, we've seen several home-grown start-ups challenge the long-established market leaders, with brands like PickMe and wow.lk serving as pioneers in their respective fields. We are confident that these are among the first of an entirely new breed of companies that hold the potential to collectively redefine the trajectory of the Sri Lankan economy moving forward.


Q: What makes Stax the preferred partner for corporates during their digital journey?

A: The clients we work with in our US, European, and East Asian markets cite our rapid adaptability to our clients' core issues, and our ability to develop customised solutions for those issues, as key reasons for working with us. We believe that digitisation is an opportunity for our clients to re-invent themselves, whilst holding onto their core values and aspirations— thereby truly differentiating themselves from the competition. This is only possible with a partner that is genuinely committed to supporting the client's ambitions, and willing to go the extra mile to ensure that the solutions are bespoke and able to deliver the desired result.

Over the years, Stax has supported start-ups, corporates, and investment funds in thinking through their digital strategy by evaluating digitisation options, creating roadmaps, launching digital solutions, and supporting the growth of online business. We believe that the formulation of a digital strategy is the most vital component of a digitisation engagement, with the platforms and technologies developed or utilised during execution, being only tools to realise strategic objectives.

There is a clear gap in the local market for a strategic partner with this type of thinking and unique skill set. Therefore, Stax will be launching a suite of services to help supercharge digital innovation and create long term value for clients.


Q: How can Stax support the digital transformation of prospective clients?

A: Stax has developed a comprehensive suite of digital solutions to cater specific client requirements within the local market.

At an entry level, we offer the Stax Digitisation Index, where we audit our client's internal and external digital positioning in relation to the nature of their business, competitor behaviour, industry best practices, and internal capabilities. This allows them to understand where they currently stand on the digitisation spectrum, and take corrective, or in some cases proactive, steps to ensure long term sustainability. This is also a relatively low engagement product that we offer to help our clients to understand the level of insight and value we can add to their operations.

We also offer digital product roll-out support, digital marketing services, user engagement solutions and digital experience optimisation.

While these services cover an external, customer facing perspective, our internal service offering looks at process optimisation through digitisation. This involves conducting a full audit of internal processes, indentifying opportunities for digitisation, and drawing up execution plans. Stax also offers business intelligence solutions by creating dashboards that support management decision making and operations monitoring, while providing a full overview of complex operations within an entity.

Across all the above services, we offer implementation support through our Stax Project Management Office (PMO). This ensures that strategies developed are effectively operationalised, executed, and managed, while working with internal stakeholders to ensure buy-in and collective accountability.

This level of service is unparalleled within the local market, and we already have clients seeing the value in such digital advisory services being offered in Sri Lanka.