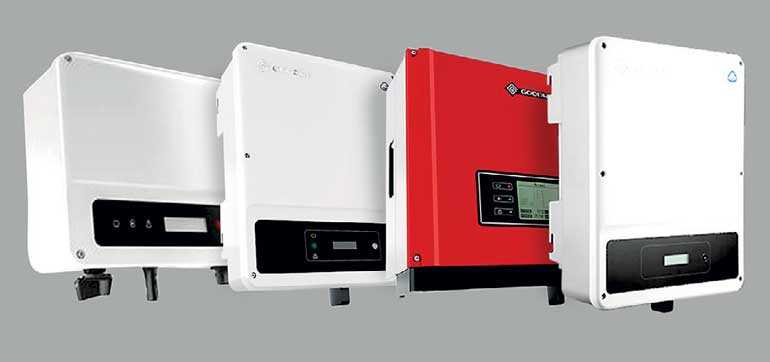 Brantel Lanka Ltd., a leading ICT company, has acquired distribution rights in Sri Lanka for 'GoodWe' – ranked number one among hybrid storage inverters in the world, adding another top-notch technology brand to its portfolio.

Hybrid grid-connected systems are able to store solar energy generated during the day in batteries for use at night. When the stored energy depletes, the supply from the national grid is used as back-up, allowing consumers to have the best of both worlds. This is especially useful to provide back-up power during blackouts, Brantel said.

As authorised distributor for GoodWe, the brand with a share in excess of 15% in the global hybrid inverter market, Brantel said it would maintain stocks of these hybrid inverters for customers seeking an alternative to on-grid solar installations.

Expressing the view that this partnership will open a new era for both companies, GoodWe Sales Director for India and Sri Lanka James Hou said: "We are delighted to enter into the partnership with Brantel for the Sri Lanka market, where we have built up sound brand recognition thanks to the surpassing excellence of our inverter's long-term performance as well as our continuously strong support to our users. Brantel is a very reputable distributor in Sri Lanka with an excellent track record. They will not only act as a dealer for GoodWe products, but also provide local services for our inverters across the country."

GoodWe possesses the industry's most comprehensive storage portfolio from 3kW to 100kW, covering single-phase and three-phase, high voltage and low voltage, DC-coupled and AC-coupled retrofit solutions.

Brantel's offering of GoodWe hybrid storage inverters include residential inverters and commercial rooftop inverters. Brantel also distributes solar inverters manufactured by SMA Solar Technology AG of Germany, one of the world's leaders for on-grid solar power inverters.

The initial offering from Brantel in Sri Lanka includes GoodWe inverters from the XS Series, DNS Series, SDT G2 Series, and SDT Series. Other models and sizes of hybrid inverters will be available in the future, the Company said.

The XS Series is an ultra-small residential solar inverter specifically designed to bring comfort and quiet operation as well as high efficiency to households. Its capacity ranges from 0.7kW to 3.0kW and its most outstanding characteristics are its light weight, which is 5.2kg, and its extremely small size, equivalent to an A4-sized paper, which makes it particularly easy to carry and install.

GoodWe's DNS Series is a single-phase on-grid inverter with 3kW to 6kW capacity and comes in a compact size, fitted with comprehensive software and hardware technology. Manufactured for durability and longevity under modern industrial standards, the DNS series offers high efficiency and class-leading functionality, IP65 dustproofing and waterproofing and a fan-less, low-noise design.

The Smart DT series of inverters is specially designed for three-phase home solar systems and small commercial usage, and covers a wide power range of 4kW to 20kW. The integrated two Maximum Power Point Trackers (MPPTs) allow two-array inputs from different roof orientations. Meanwhile, the GoodWe SDT series inverter is small, light and easy to install and is suitable for both outdoor and indoor installations.

Marketed as the best option for the residential and commercial sectors owing to its technical strengths, the GoodWe SDT G2 series of inverter is especially designed for three-phase residential and small commercial projects with capacities ranging from 4kW to 25kW. With its compact design, the SDT G2 inverter is 45% smaller than the first generation and possesses efficiency as high as 98.4%. With an advanced ventilation system, the inverter is able to dissipate heat efficiently. In addition, it can be customised with an integrated shiny LCD screen.

GoodWe is a leading, strategically-thinking enterprise which focuses on research and manufacturing of PV inverters and energy storage solutions. With an average monthly sales volume of 30,000 pieces in 2019 and 12 GW installed in more than 100 countries, GoodWe solar inverters have been largely used in residential rooftops, commercial systems and energy storage systems. GoodWe has been ranked as a World Top 10 solar inverter manufacturer by Bloomberg, IHS & Wood Mackenzie.

Brantel Lanka Ltd. delivers technology and value added services to more than 2,000 business customers. The Company partners with leading technology brands from around the world to simplify and accelerate sales channels. With expert sales and technical support teams it has serviced its customers for the past 17 years from its branches and dealers island-wide.

Its range of products from leading global manufacturers include Mini computers, Android smartphones, tablets and feature phones, copper and fibre network cables, passive network components, solar inverters, PV modules, point-of-sale thermal printers, and digital smart board solutions.

Brantel is also the national distributor for Corning and E-tel mobile phones in Sri Lanka.