Breaking new ground in the spectrum of ERP solutions, Bileeta has over the last one year been instrumental in helping SMEs fuel rapid growth by launching an enterprise resource planning system designed specifically for small business and midsize companies.
Known as 'Entution ERP,' the solution has assisted SMEs manage all their business processes on a single ERP platform, resulting in the improvement of cash flows while cutting inventory costs.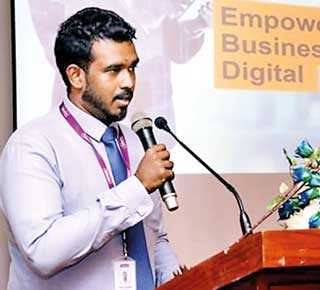 Bileeta presenting its solution to the Jaffna business community
Many SMEs across the country from Colombo, down south and Negombo have been buying into the solution that has helped these companies to maximise business agility and utilise intelligent automation to unlock new levels of performance across their organisations.
In the wake of this success, Bileeta recently reached out to the northern region of the country by presenting their solution at a trade forum targeted for business entities in the Jaffna region that was attended by well over 150 SME companies.
Bileeta Project Consultant Anthony Joe showcased the benefits that SMEs could enjoy by embracing this technology. Additionally, an 'Experience Centre' was set up at the event to demonstrate the methodology of the Entution ERP Solution that attracted many of the participants at this event to sign up in using the solution.
Bileeta Head of Business Development Benton Samuel stated: "Our aim is to give SME businesses in Jaffna an unlimited path to growth through our Entution ERP solution. As it is designed to meet the needs of ambitious small and midsize businesses, through our solution, they can surpass their competition in revenue growth, profitability, customer satisfaction, and market response. To be competitive and grow, companies must be more data-driven and this is what we offer SM's through our solution so that they can overcome business challenges and be progressive organisations that are future driven, efficient and effective."
Bileeta with its wide partner base in Sri Lanka, will be operating in Jaffna with value added resellers, to implement and deploy the 'Entution ERP Solution' to the many businesses in the region.