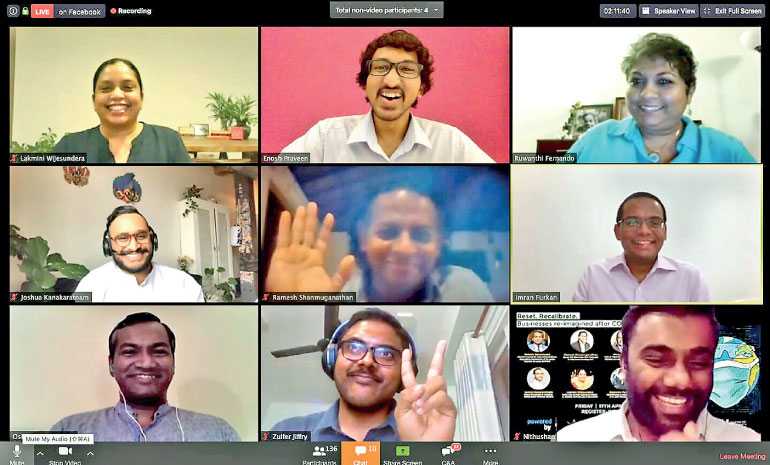 'Reset. Recalibrate – Businesses reimagined through Digitalisation' event held with 3,000+ live audience
As the coronavirus spread to all four corners of the globe, life as we know it has come to a screeching halt. Across the board, entire industries are facing unprecedented challenges. Nevertheless, to help businesses plan for the future beyond COVID-19, BlueLotus 360 together with Business Machines, brought together a group of experienced leaders in the tech industry to discuss this issue, at a webinar that saw over 250 attendees on Zoom and 3,000+ live viewers on Facebook.

Held under the theme of 'Reset. Recalibrate – Businesses re-imagined after COVID-19,' the discussion was moderated by

ReadMe.lk Director Enosh Praveen. Its panel consisted of TRESYNC CEO Imran Furkan, John Keells Holdings PLC Group CIO and Executive Vice President Ramesh Shanmuganathan, PickMe Co-Founder and CEO Jiffry Zulfer, Telecommunications Regulatory Commission of Sri Lanka Director General Oshada Senanayake, IronOne Technologies and BoardPAC Co-Founder and CEO Lakmini Wijesundara, N-Able Chief Process and Delivery Officer Ruwanthi Fernando, and Zendesk Senior Consultant Joshua Kanakaratnam.

By bringing together these experts under a common platform, BlueLotus 360 and Business Machines aimed to address the growing concerns of Sri Lankan business leaders and offer solutions to the challenges they face due to the coronavirus pandemic.

Commenting on this partnership, Business Machines Director and CEO Glenn Lord said: "For over 60 years, we've been empowering businesses through Business Machines. With the partnership of Blue Lotus 360, we are positioned to help organisations adopt technology and transform digitally, to embrace the future."

Throughout the discussion, the consensus amongst the leaders was that the world will look very different following the COVID-19 outbreak. For their survival, organisations must now work to stabilize themselves and work towards self-sufficiency. Afterwards, they must look at the new normal and remodel themselves. Yet, the situation has also opened up fresh opportunities. Hence, as they remodel themselves organisations must develop the capability of rapidly executing ideas to seize these opportunities.

Sharing the purpose of this initiative, Blue Lotus 360 COO Nithushan Uthyakumar said: "By bringing these industry leaders together on a single platform, we are proud to say that we were able to offer unmatched insight and guidance, to show the way forward for organisations to overcome this crisis."

Following the discussion, the panellists proceeded to answer questions from the live audience. The webinar concluded with the leaders emphasising the importance of recognising the current opportunities while operating cautiously in the face of the coronavirus outbreak. For the many changes that we assumed would be temporary may, in fact, be the new normal. Nevertheless, Sri Lanka is a resilient nation. By looking at opportunities and utilising technology, it's possible for organisations to overcome this crisis.

Blue Lotus 360 is a cloud-based ERP solutions provider that integrates all business management functions, including construction, hospital administration, preparation, inventory/materials supervision, engineering, demand processing, manufacturing, buying, accounting and investment, human resources, and more.

Founded in 1956, Business Machines was established to support businesses by offering innovation and quality office automation solutions. Today, the company has grown to be the most experienced office automation provider in Sri Lanka.