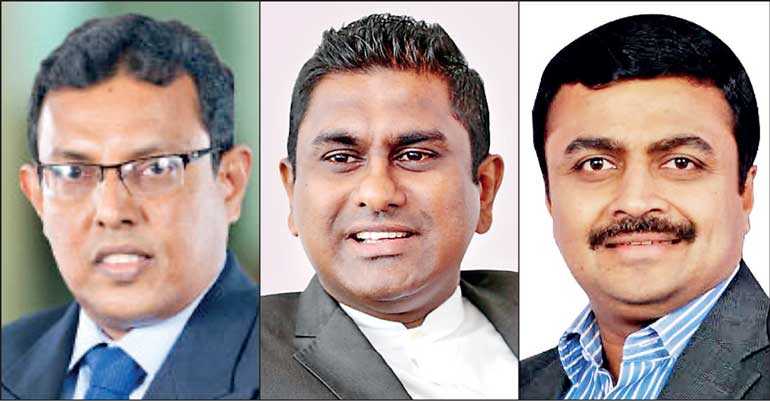 From left: Bank of Ceylon Assistant General Manager – Compliance Asoka Pinnaduwage, Epic Lanka Managing Director/CEO Viraj Mudalige, and Customer XPS CEO Rivi Varghese
Technical advancement in transaction monitoring and futuristic risk-based approach of Clari5 AML system to help Sri Lanka achieve discipline in global financial space
Sri Lanka's premier and award-winning regional technology leader Epic Technology Group announced that Bank of Ceylon (BOC) – Sri Lanka's premier state bank – has gone live with Clari5 Anti-Money Laundering (AML) Solution to address money laundering threats, after the bank chose Epic Lanka as their preferred technology partner to implementthe project.

Epic completed the successful implementation in association with CustomerXPS, the regional leader in Anti-Money Laundering/Countering Financing of Terrorism (CFT) solutions.The implementation now covers BOC's strategic banking operations in Sri Lanka, Maldives and Seychelles.

Following an extensive global evaluation of AML/CFT solutions, BOC had chosen Clari5 for money laundering risk management, instead of traditional solutions that have a conventional approach for AML/CFT. The Clari5 AML solution suite comprises of six key modules: Suspicious Activity Monitoring, Customer Risk Categorisation, Entity Identity Resolution/Watch List Filtering, Regulatory Reporting such as currency transaction report (CTR), Suspicious Transaction Reporting (STR), suspicious activity reporting (SAR), Foreign Account Tax Compliance Act reporting (FATCA), Case Management and Entity Link Analysis. Some of the key technical advancements and futuristic risk-based approach of Clari5 AML system over traditional solutions are:

Scenario Authoring Tool to create/modify/enable/disable scenarios on the fly without involving an IT team

Integrated advanced Case Management system with built-in alert routing and work flow for case investigation

Lower Investigation Cycle time by allowing Investigators a look-up into Master Data and relevant transactional data in native Clari5 Interface

Capability to screen International Payment Instructions in real-time

Proven solution working live in some of the largest banks (with 200M accounts) for real-time fraudulent transaction monitoring without any impact on Core Banking System performance

One Product, Multiple Solutions approach - Ability to extend the same platform for Anti-Fraud, Customer Experience Management & Loan Portfolio Monitoring requirements in future utilising the same interface (Integrate once-deploy multiple solutions)

Low Integration Cost and Effort leading to quicker implementation and ROI

FATCA Compliance –Automated mechanism with clear role definition for streamlined compliance

In 2017, the European Commission listed Sri Lanka along with few other countries to its risk category upon the advice of the international Financial Action Task Force (FATF) and by 2018 February, the European Parliament confirmed the commission's verdict, stating that Sri Lanka has been included in the list for risks attributed to money laundering activities.In such context, this development is regarded as one of the biggest national achievements of the local banking industry where Sri Lanka's largest, government-owned financial institution has gone live with a world-leading AML solution with some of the advanced features to encounter sophisticated financial threats. The implementation also comes at a time where the nation's financial sector is actively looking to implement stringent AML/CFT programs in response to the heightened threats worldwide and as part of BOC's enterprise financial crime risk management strategy.

Ranked consistently in Chartis' RiskTech100 rankings and as well as in the Leaders Category in ChartisRiskTech Quadrant for Enterprise Fraud Solutions in 2018, Clari5 redefines real-time, cross channel banking Enterprise Fraud Management using a central nervous system approach to fight financial crime. Harnessing the combined power of automation, artificial intelligence (AI), decision sciences and real-time decisions, Clari5 processes over 10 billion transactions, manages over 450 million accounts and reliably secures four per cent of the global population's banking transactions.

Commenting on the successful implementation, Bank of Ceylon Assistant General Manager – Compliance Asoka Pinnaduwage said, "Being bankers to the nation, we wanted to set the precedent for staying ahead of domestic as well as global risk and compliance regulations with the very best in financial crime management technology. We are excited to see our vision being implemented by partnering ourselves with Epic Technology Group to go live with Clari5 AML solution. The solution, which is an industry-leading product, will be robust, competent and beneficial to the bank in many terms."

Epic Lanka Managing Director/CEO VirajMudalige stated: "We are extremely proud to be the strategic partner of the successful implementation of Clari5 Anti Money Laundering Solution by CustomerXPS for Bank of Ceylon.What is most satisfying is that we managed to implement a comprehensive solution by connecting threeof BOC's strategic locations – Sri Lanka, Maldives and Seychelles – in a short period of time.BOC going live with the category-leading AML/CFT solution is a positive development for banks in the entire region."

Mudalige further commented that this visionary initiative will be a positive call for the development of a national Enterprise Fraud Management (EFM) for the entire banking industry as well as developing a robust, national strategy for anti-money laundering.

The EFM module is designed to support the detection, analytics and management of fraud across users, accounts, products, processes and channels. The module monitors and analyses the behavioural patterns of the user from an application level – rather than at the system, database or network level – and has a close watch upon what is leaked and across accounts using any type of medium to a user. It also analyses the behavioural patterns amongst the users, accounts, other entities, in search for organised crime activities, corruption or misuse.

CustomerXPSCEORivi Varghese said, "It is a matter of immense pride when a financial institution of BOC's stature activates our acclaimed EFCRM solution Clari5. We are delighted to see Clari5 playing a pivotal role in augmenting BOC's AML/CFT operations."

CustomerXPS was recently recognised by Chartis Research as a best-of-breed vendor in its latest 'Artificial Intelligence in Financial Services, 2019' Report. The company has been also featured in the Fintech Global RegTech 100 – a list of 100 of the world's most innovative Regulatory Technology (RegTech) companies that financial institutions need to know about as they develop their RegTech strategies.