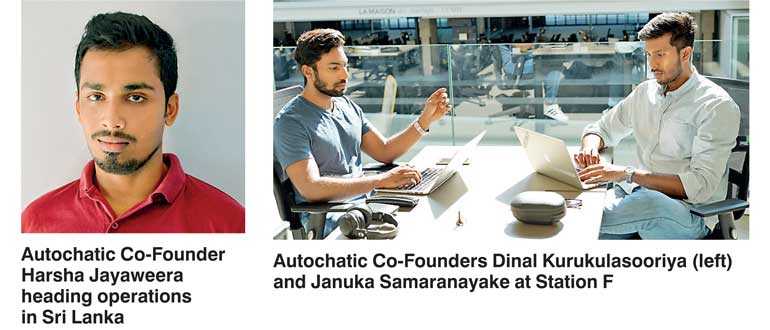 Autochatic, the creator of world's first multilingual BYOB (Build Your Own Chatbot) platform (https://autochatic.com) and Sri Lanka's only company specialised in developing chatbots, is now headquartered in Paris at the world's biggest start-up incubator, Station F.

They turned out to be one of the very first Asian startups to join Station F, which is popular among techies as the centralised Silicon Valley. Station F has already welcomed big names in the tech world such as Facebook, Google, Microsoft, Amazon, Ubisoft, Naver, and a global leader in personal care products, L'Oreal, to set up their offices at this prime location.

It has the capability to bring 3000 entrepreneurs with around 1000 startups under a single roof. With Station F coming into the picture, the city of love is now transforming into a city of tech.

"Getting accepted to Station F was definitely a huge challenge as well as an opportunity for us. We believe that the concept and the technology, made it possible for Autochatic to Join Station F," said Dinal Kurukulasooriya, co-founder of this advanced technology-driven start-up.

To secure a place at the Station F, a start-up must go through a highly competitive and very tough application process. There is only a 6% chance to get accepted to Station F. Among thousands of applications coming from around the globe only the finest will receive access to this futuristic incubator.

Together with Januka Samaranayake and Harsha Jayaweera, Kurukulasooriya co-founded Autochatic in 2017. Three graduates left their highly paid corporate jobs to follow their passion in serving individuals and businesses through Artificial Intelligence.

Kurukulasooriya graduated from the University of Moratuwa majoring in computer science engineering. He has a strong background in business and mathematics. Samaranayake, a Computer science graduate of University College Dublin, is a chess prodigy who won the under 19 chess championship at the age of 14. A self-taught programmer, Jayaweera has more than 10 years of experience in programming and previous involvement with startups.

At present, Autochatic has a developer team in Sri Lanka and conduct their operations in Singapore and New Zealand with the aim of expanding to other regions of the world as well.

The name "Autochatic" resembles what they do. "We support individuals and businesses to create automated messaging platforms to communicate with their customers by utilising the power of Artificial Intelligence (AI). These automated conversations are backed by natural language understanding and rich User Interfaces (UIs) on top of messaging mediums," stated Samaranayake, explaining their whole new concept of BYOB.

"Our chatbots are multilingual, context-aware, Human-AI hybrid and the magic is that you don't need to know computer programming (no coding) to build your own chatbot. So, you can build your own chatbot as easy as drawing a flowchart within few minutes or if not our dedicated teams are willing to support you to build a chatbot," added Jayaweera.

Autochatic has worked with both leading corporates and startups from several domains such as healthcare, insurance, banking, telecommunication, transportation to provide intelligent automated business messaging solutions backed by AI. They excel in developing customised chatbots depending upon customer interactions and business needs.