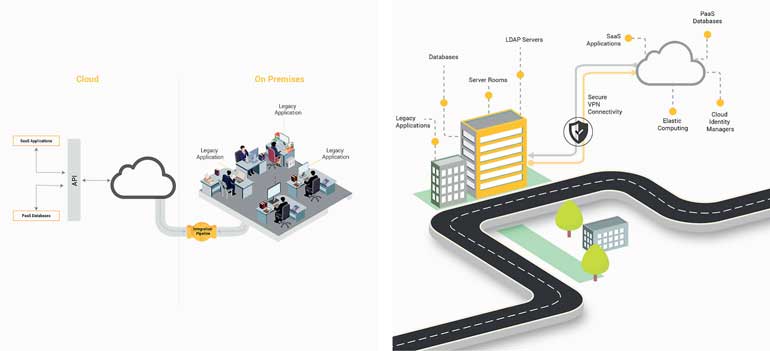 By Derek Bell

In recent years, we have witnessed an increasing trend towards Software as a Service and Platform as a Service (SaaS and PaaS) cloud solutions. Examples include CRM systems such as Hubspot and accounting software like Xero. Many organisations have realised the benefits of moving towards SaaS and PaaS. The benefits include scalability, simplicity, flexibility, CapEx avoidance, and pay-as-you-use pricing structures.

Most organisations are now evolved to the point where at least some of their IT systems and data are located upon cloud-based services. However, at Mitra Innovation – a technology innovation company based in Sri Lanka, Australia and the UK – we have also witnessed a number of organisations having part or most of their key business information locked-in to legacy applications. Some of these applications are located in computer rooms within the business premises or even hosted within data centres.
A data sharing problem
Even though the above described 'hybrid model' setup does offer numerous advantages, there are also drawbacks that restrict overall system effectiveness. The principal drawback is the limitation of sharing data between various systems.

In the real-world, business processes require information from many other systems, not just one. For example, the Procurement team within an organisation may need access to Stock Control Systems, Supplier Databases, Finance Systems and Human Resource Management Systems.

Accessing information stored within these various applications and services presents a significant barrier to flexibility, especially when these systems are built as closed environments.

The good news: this is a problem that can be solved with cloud integration.
Cloud integration as the solution
Organisations are realising that by building an integration layer, the above described barriers can be overcome. For example, a Mitra Innovation customer – Travis Perkins – has built a new enterprise-wide integration layer to their architecture. This layer provides the much-needed flexibility to access company information, whilst providing a flexibility point in managing systems migration over time.

There are several proven commercially available middleware platforms on the market. These provide the essential foundations for the integration layer of an enterprise solution. These platforms are invariably costly though and apply 'per-user license' pricing.
An increasing trend

towards open source
Open-source solutions are a good alternative, with WSO2 being the number one provider of Open Source Middleware platforms. WSO2 enables an organisation to build an integration layer which is relatively low cost and provides a good amount of flexibility to customise the platform to specific organisational requirements.
Approach
In many ways, the approach to implementation of such an enterprise middleware solution follows fairly traditional steps:

Understand the current setup (as-is)

Build a picture of the target architecture

Build a step-by-step migration plan to enable delivery of the target architecture in incremental, bite-sized components.

It is worth noting that the adoption of an Agile Delivery Model proves beneficial to many organisations when making this investment. This enables the avoidance of the organisational turbulence normally associated with a "big bang" solution deployment, whilst also ensuring the early delivery of high-value components. This in turn, ensures the delivery of benefits from the early phases, to help fund the delivery of later phases.

Minimise operating costs whilst maximising scalability and flexibility

For large organisations with complex IT systems estates, the benefits of such an approach can be significant. Many see their integration layer as an essential underpinning of optimised end-to-end business processes, thereby minimising operating costs whilst maximising scalability and flexibility. Others see the greatly reduced time to market for product innovation as being a key benefit.

Additionally, many organisations are also finding that having easy access to all their data provides them with additional insight into the workings of their business, and therefore helps inform managers as to where to invest for operational gains in the future.

A recent and increasing trend is the application of machine learning to use these data insights to identify current pain points and determine options for future investment and innovation.
Caution: it's not all

about the technology
As any business transformation journal, paper or publication will tell you, effective business transformation requires the right combination of people, processes and technology components in the business solution.

Mitra Innovation fully understands the difference between simply installing a solution and embedding it into 'Business-as-Usual'.

Business transformation requires a careful review and evolution of business processes, together with developing the right training and coaching for people who will use the new solution.
(The writer is the COO at Mitra Innovation.)