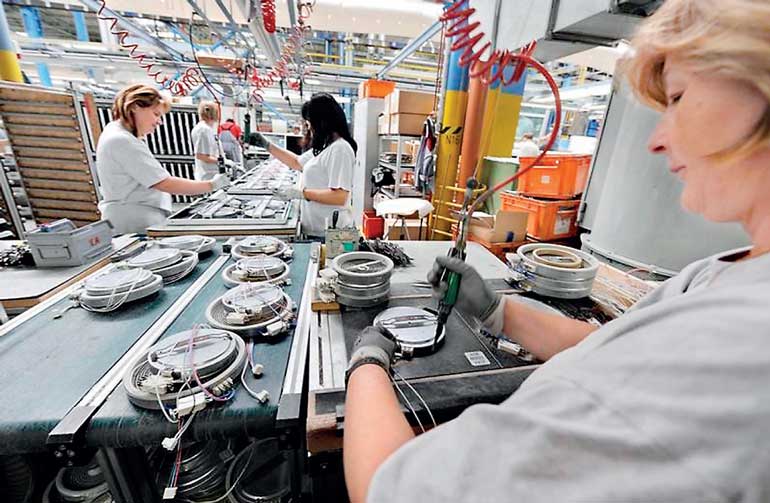 Reuters: Global manufacturing activity remained stuck in a rut last month with factory output from Asia, Europe and the Americas barely improving as producers struggled to bring in new orders, surveys released on Wednesday showed.

Speculation in recent weeks that the U.S. Federal Reserve will raise interest rates in the next few months, concerns about Chinese economic growth, and worries that a possible British exit from the European Union, are all factors that have knocked confidence.

"The world economy will meander along at its slowest pace since the financial crisis for a second year in a row in 2016 as it is ensnared in a "low-growth trap", the OECD said on Wednesday, urging governments to boost spending.

Global manufacturing growth stalled last month as new orders barely accelerated, forcing factories to run down backlogs and cut back on staffing levels, a survey showed on Wednesday.

JPMorgan's Global Manufacturing Purchasing Managers' Index (PMI), produced with Markit, came in at 50.0 last month, right on the level that separates growth from contraction, compared to 50.1 in April.

"The May PMI data suggest that the global manufacturing sector remains in a low gear. Indices for output, new orders and the headline PMI were all at, or barely above, the stagnation mark," David Hensley, a director at JPMorgan said. Markit's final manufacturing Purchasing Managers' Index (PMI) for the euro zone dipped to a three-month low of 51.5 from April's 51.7.

Gross domestic product in the bloc grew 0.5% in the first quarter, but is expected to expand just 0.3% this quarter, according to a May Reuters poll.

Having fired another salvo in its battle to drive up growth and inflation in the euro zone earlier this year, European Central Bank President Mario Draghi in April called on governments to help get the region's sluggish economy on a more solid footing. Yet, despite the ultra-loose monetary policy, euro zone manufacturing activity remained lackluster in May, supporting the view that strong economic growth in the first quarter did not carry through to the second.

"This reinforces the idea things are going okay; it's not a disaster, but clearly there are no obvious signs that the big lift we saw in Q1 is going to be sustained," said Ben May at Oxford Economics.

"Industry will be a bigger drag on growth in Q2 so we will see a slowdown in GDP growth in the euro zone." Britain's growth pace slowed in the first three months of the year and many economists expect further weakening in the second quarter. The Bank of England has said a vote to leave the EU could even tip the economy into recession.

Britons vote on 23 June whether or not to remain in the EU and recent data showed business investment fell in annual terms for the first time in three years as uncertainty over the referendum weighed on sentiment. The Markit/CIPS manufacturing PMI for Britain rose more than expected but came in only just above the 50 level.

"This data is further evidence that businesses are holding off on hiring/investment decisions prior to the referendum on EU membership," said James Smith at ING.

China's official PMI was only just positive at 50.1, though it was the third straight month of improvement. The survey also revealed new orders slowed and export orders stalled.

A private Caixin/Markit PMI, focusing on smaller companies, made sorrier reading for global firms reliant on China's market for everything from consumer items, to cars and commodities. It showed conditions deteriorated for a 15th straight month.

China's economy grew by 6.7% in the first quarter, its slowest since 2009, and there are nagging doubts about the authorities' ability to engineer a turnaround without piling on dangerous amounts of debt.

In Japan, factories grappling to recover from the earthquakes in the southern manufacturing hub of Kumamoto were also knocked by a contraction in external demand. The Markit/Nikkei Japan PMI showed the fastest contraction in three years.

The yen's recovery to an 18-month high against the U.S. dollar last month has also clouded the outlook for Japan's exporters. In India, the world's fastest-growing big economy, manufacturing activity increased at a tepid pace as output growth softened for the second month in a row.

The U.S. Markit manufacturing PMI for May fell to its lowest level since September 2009, with the index at 50.7 from 50.8 in April.

The U.S. Markit output index for May fell to 49.4 from 50.3 and is now contracting for the first time in nearly seven years.

An alternative reading on U.S. manufacturing from the Institute of Supply Management (ISM) rose to 51.3 though in May from 50.8 in April, but the May employment index remained at 49.2, unchanged from April.

In Canada, the pace of growth in manufacturing sector was little changed in May but the measures of new orders and employment both slowed, according to Markit data. The RBC/Markit Canadian manufacturing PMI slipped to 52.1 last month from 52.2 in April.

The Canadian economy continues to struggle with the impact of cheaper oil, a major export for the country.

In Latin America, Mexican manufacturing expanded at its fastest pace in 13 months, with the Markit PMI at 53.6 in May from 52.4 in April, even though anaemic demand for Mexican factory exports and lower oil prices hit growth in Latin America's No. 2 economy in recent months.

The downturn in Brazil's manufacturing sector intensified in May though, leading to a new record in job cuts as production fell for a 16th straight month.

The Brazil May Markit manufacturing PMI fell to 41.6, the lowest since 2009, from 42.6 in April.

"Record contraction in payroll numbers is likely to further aggravate domestic demand as we move into the second half of the year, "said Markit economist Pollyana de Lima. Brazil's economy is expected to contract nearly 4.0% for a second straight year in 2016 as an impeachment process against suspended President Dilma Rousseff paralyzed investments and pushed the country closer to its worst downturn on record.