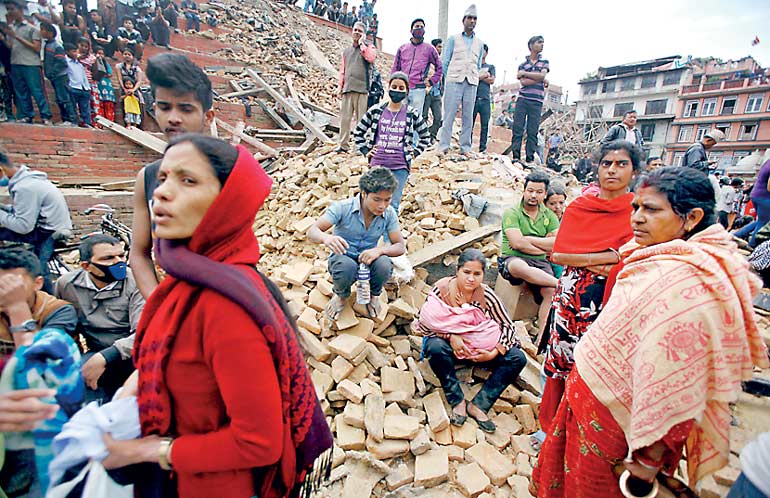 People rest on debris at Durbar Square after an earthquake in Kathmandu, Nepal, Saturday, April 25, 2015. A strong magnitude-7.9 earthquake shook Nepal's capital and the densely populated Kathmandu Valley before noon Saturday, causing extensive damage with toppled walls and collapsed buildings, officials said - AP Photo
Reuters: The World Bank on Tuesday pledged up to half a billion dollars to help Nepal rebuild after two earthquakes killed nearly 9,000 people there in April and May, leveling homes and pushing hundreds of thousands of people deeper into poverty.

The World Bank, a global development lender based in Washington, said it would contribute $ 200 million to rebuild homes in rural areas and $ 100 million directly to Nepal's Government.

Another $ 100 million to $ 200 million can be redirected from existing projects in Nepal to focus on reconstruction, the bank said, adding the funds will be replaced.

Nepal said reconstruction from its worst disaster on record would cost some $ 6.6 billion over five years, and asked international donors to attend a conference this week to help.

Aid from donors including the World Bank and Asian Development Bank already supports two-thirds of Nepal's economic development.

One in every four Nepalis lives on a daily income of less than $ 1.25, and the number of poor increased by 700,000 after the quake, according to Government officials.

Last month, the United Nations complained that emergency funds for victims of the earthquake were slow to come in, as more than a dozen other long-running international crises, like Syria and Iraq, claimed donors' attention.