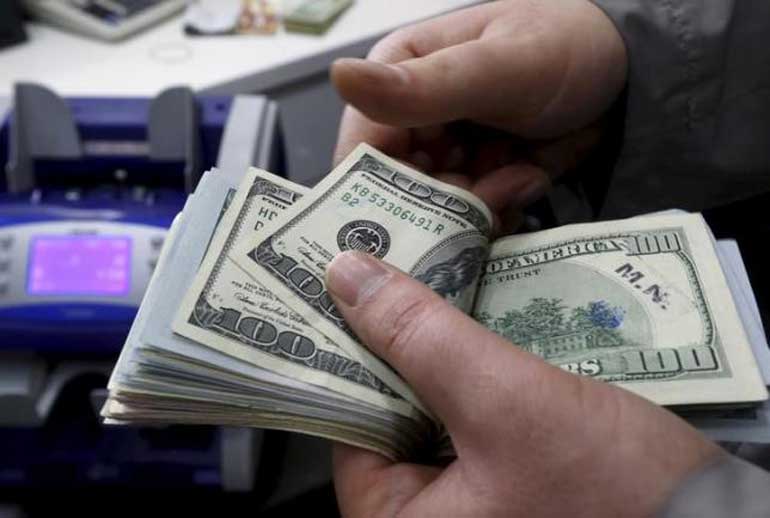 A money changer counts U.S. dollar bills at a currency exchange office in central Istanbul – REUTERS
WASHINGTON, June 24 (Reuters) - The U.S. economy contracted in the first quarter but less than previously estimated as it struggled with bad weather, a strong dollar, spending cuts in the energy sector and disruptions at West Coast ports.

However, growth has since rebounded in the second quarter as the temporary drag from unusually heavy snowfalls and the ports dispute faded. Retailers reported strong sales in May and employers stepped up hiring. Housing is also strengthening.

The Commerce Department said on Wednesday gross domestic product fell at a 0.2% annual rate in the January-March quarter instead of the 0.7% pace of contraction it reported last month.

A fairly stronger pace of consumer spending than previously estimated accounted for much of the upward revision to GDP. Consumer spending, which accounts for more than two thirds of U.S. economic activity, was raised to a 2.1% growth pace from the 1.8% rate reported last month.


The economy expanded at a 2.2% rate in the fourth quarter.

But the first-quarter slump in output likely is not a true reflection of the economy's health. Economists, including those at the San Francisco Federal Reserve Bank, say a problem with the model the government uses to smooth the data for seasonal fluctuations also contributed to depressing the GDP number.

The government said last month it was aware of the potential problem and was working to address it when in publishes annual GDP revisions in July.


When measured from the income side, the economy expanded at a 1.9% rate in the first quarter instead of the previously reported 1.4% pace. A measure of domestic demand growth was revised up four-tenths of a%age point to a 1.2% rate.

Economists estimate unusually heavy snowfalls in February sliced off at least one%age point from growth.

With personal savings increasing at a robust $720.2 billion pace as more Americans get a paycheck, consumer spending could accelerate in the second quarter. Spending could also get a boost from rising household wealth as home prices accelerate.

While export growth was revised higher, that was offset by an upward revision to imports, leaving a still-large deficit that subtracted almost 2%age points from GDP.


The GDP revision was in line with economists' expectations.

U.S. Treasury debt prices rose on data, while the dollar was little changed. U.S. stock index futures were unchanged.