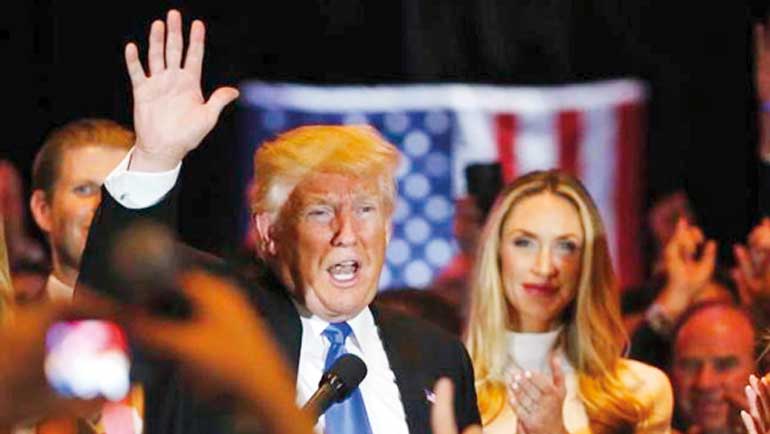 Reuters: Republican front-runner Donald Trump went from long-shot contender to become the party's presumptive nominee on Tuesday with a commanding win in Indiana, and the party began to coalesce around him as top rival Ted Cruz bowed out of the race.

The New York billionaire, who has never held public office, had repeatedly defied pundits' predictions that his campaign would implode. He prevailed despite making outrageous statements along the way that drew biting criticism but still fed his anti-establishment appeal.

The former reality TV star now can prepare for a matchup in the Nov. 8 election with Hillary Clinton expected to be his Democratic opponent. Clinton's march to the Democratic nomination was slowed by rival Bernie Sanders' victory over her in Indiana.

Trump's immediate challenge is to unite deep fissures within the Republican Party as many party loyalists are appalled at his bullying style, his treatment of women and his signature proposals to build a wall on the border with Mexico and deport 11 million illegal immigrants.

"We have to unite the party if we want to win in November," said Henry Barbour, a Republican National Committee leader from Mississippi. "Donald Trump is the guy with the keys to the car. He's the one who needs to unite us. Now is his opportunity. The voters have picked him."

Trump himself called for unity in a speech at a victory rally that was free of his usual bombast and flamboyance. Trump's victory put to rest a belief that Republicans would choose their nominee at a contested convention when party leaders gather in Cleveland July 18-21.

At his victory rally at Trump Tower in New York, Trump walked on stage with wife Melania and other family members as the Rolling Stones' "Start Me Up" blared over loudspeakers.

He is likely to formally wrap up the nomination on June 7 when California votes, although Ohio Governor John Kasich vowed to stay in the race as Trump's last challenger.

Trump called Indiana a "tremendous victory" and immediately directed fire at Clinton.

"We're going after Hillary Clinton," he said. "She will not be a great president, she will not be a good president, she will be a poor president. She doesn't understand trade."

Republican National Committee Chairman Reince Priebus called Trump the party's presumptive nominee in a tweet and said, "We all need to unite and focus" on defeating Clinton.

Cruz: "Voters chose another path"

As the vote returns flowed in, Cruz announced that he has ended his campaign in Indianapolis, with his wife, Heidi, at his side. Cruz, 45, sounding beaten but defiant, said he no longer sees a viable path to the nomination.

"We gave it everything we got. But the voters chose another path, and so with a heavy heart, but with boundless optimism for the long-term future of our nation, we are suspending our campaign," said Cruz, a U.S. senator from Texas.

Clinton's campaign signaled the former secretary of state's approach to dealing with Trump in a statement issued by senior Clinton adviser John Podesta, who said Trump seeks to "bully and divide Americans."

"Throughout this campaign, Donald Trump has demonstrated that he's too divisive and lacks the temperament to lead our nation and the free world. With so much at stake, Donald Trump is simply too big of a risk," he said.

Cruz had hoped to show he was still a factor in the race. Some at his event expressed shock at the decision by Cruz, who had been the last serious challenger to Trump out of an original field of 17 candidates.

Trump won at least 51 of 57 possible delegates awarded in Indiana, according to the Associated Press delegate tracker. His victory in the state pushed him to 1,047 delegates of the 1,237 needed to clinch the nomination, compared with 153 for Kasich.

Cruz had 565 delegates before suspending his campaign.

On the Democratic side, Clinton now has 2,202 of the 2,383 needed, while Sanders has 1,400.

Trump declared Cruz a tough man to beat.

"Ted Cruz, I don't know if he likes me or doesn't like me. But he is one hell of a competitor. He is one smart guy. And he has got an amazing future," Trump said.

Trump also reached out to both Hispanics and African-Americans as he talked about ensuring jobs and saying he would "make America great again."

"This is going to be a beautiful and loving country," Trump said.

But anti-Trump groups said they would continue fighting, and Lanhee Chen, who had advised former Republican candidate Marco Rubio, broached the possibility of a third-party candidate.