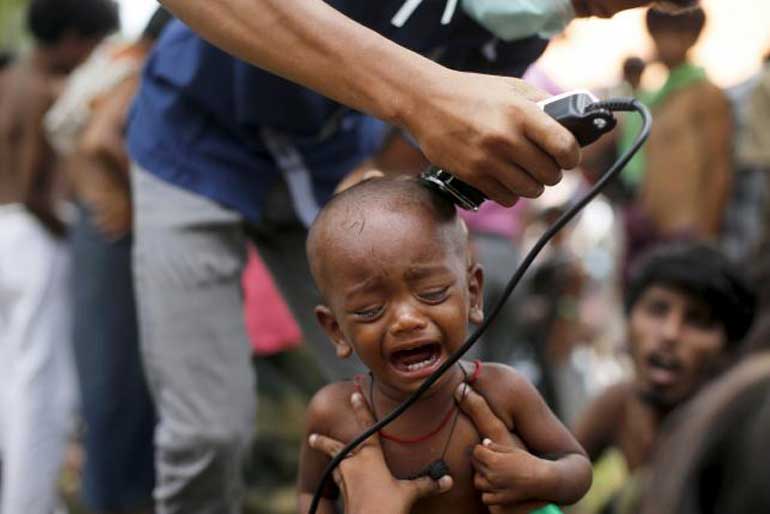 Myanmar's navy found two boats, one carrying more than 200 Bangladeshis, the government said on Friday, after the military chief said some migrants landing in Malaysia and Indonesia this month are pretending to be Rohingya Muslims so they can get U.N. aid.

The military chief's remarks are sure to spark concern after the United States this week stressed the need for Myanmar to address what it saw as the root cause of the migration, which included "racially and religiously motivated discrimination and violence" against the ethnic minority Rohingya.

Most of Myanmar's 1.1 million Rohingya are stateless and live in apartheid-like conditions in Rakhine State in western Myanmar. Almost 140,000 were displaced in deadly clashes with Buddhists in Rakhine in 2012.

U.N. agencies have urged regional governments to protect thousands of migrants stranded on boats in the Bay of Bengal and the Andaman sea with dwindling supplies.

The two boats, one carrying migrants and the other empty, came from Ranong, in southern Thailand, the Rakhine state government said in a press release. The people smugglers' original plan had been to load the boats with 300 migrants each and take them to Thailand, it said.

"While on patrol in Myanmar waters, the Myanmar Navy ship 568 found a boat loaded with about 200 Bengali and another empty boat at sea about four miles west of Thinbaw Gway Village, Maungdaw Township," Myanmar government spokesman Ye Htut said on his Facebook page, using the government's term for illegal migrants from Bangladesh.

Altogether, 219 people were on the boat, said Ye Htut, including nine crew members and "two Bengali interpreters".

The migrants were "from Cox's Bazar, Chittagong and northern Dhaka," referring to cities and towns in Bangladesh, he said.

Hundreds of migrants, including Rohingya from Myanmar and Bangladeshis fleeing persecution and poverty at home, have been pushed back out to sea by Thailand, Malaysia and Indonesia this month. Many now face sickness and possible starvation.

Senior Myanmar General Min Aung Hlaing "hinted that most victims are expected to assume themselves to be Rohingya from Myanmar in the hope of receiving assistance from UNHCR" during a meeting with U.S. Deputy Secretary of State Antony Blinken on Thursday, the state-backed Global New Light of Myanmar newspaper reported.