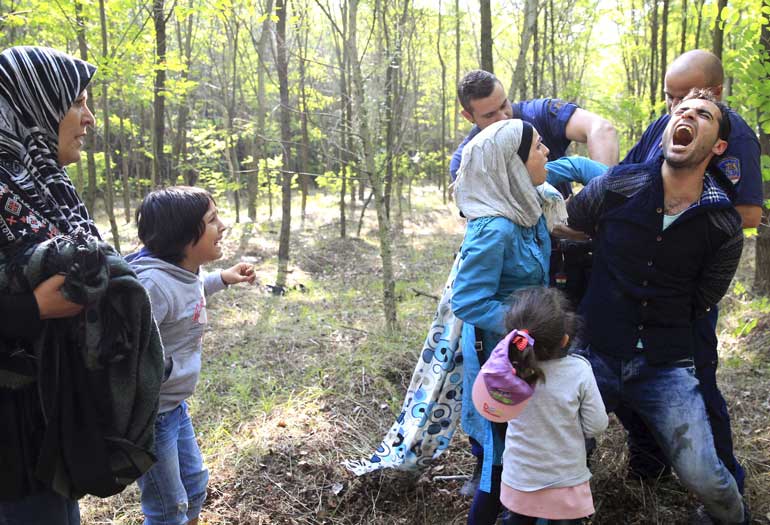 Hungarian policemen arrest a Syrian migrant family after they entered Hungary at the border with Serbia, near Roszke, 28 August – REUTERS
The number of refugees and migrants crossing the Mediterranean to reach Europe has passed 300,000 this year, up from 219,000 in the whole of 2014, the UN refugee agency UNHCR said on Friday.

More than 2,500 people have died making the crossing this year, not including about 200 who are feared to have drowned off Libya in the last 24 hours. That compares with 3,500 who died or went missing in the Mediterranean in 2014.

"The way people are being packed onto boats is causing their deaths," UNHCR spokeswoman Melissa Fleming told a regular UN briefing.

In one incident on Thursday, 51 people suffocated in the hold of a boat, and survivors said they had been beaten to force them into the hold and then had to pay money to smugglers just to come out of the hold to breathe, Fleming said.

One of the survivor, an Iraqi orthopaedic surgeon, said he had paid 3,000 euros ($3,385) to come up onto the top deck with his wife and two-year-old son.

Last week, 49 people died in another boat's hold after inhaling poisonous fumes, and on Wednesday 21 people are thought to have died after a dinghy with 145 on board got into difficulty, Fleming said.

The European search and rescue operation FRONTEX had saved tens of thousands of lives this year, but EU countries must do more to act together to deal with the problem, which UNHCR has repeatedly said would be manageable with the right action.

Fleming said there were legal alternatives to the dangerous journey across the Mediterranean - resettlement and humanitarian admission, with eased visa rules and family reunification - but such schemes were "way too few for the numbers of people".