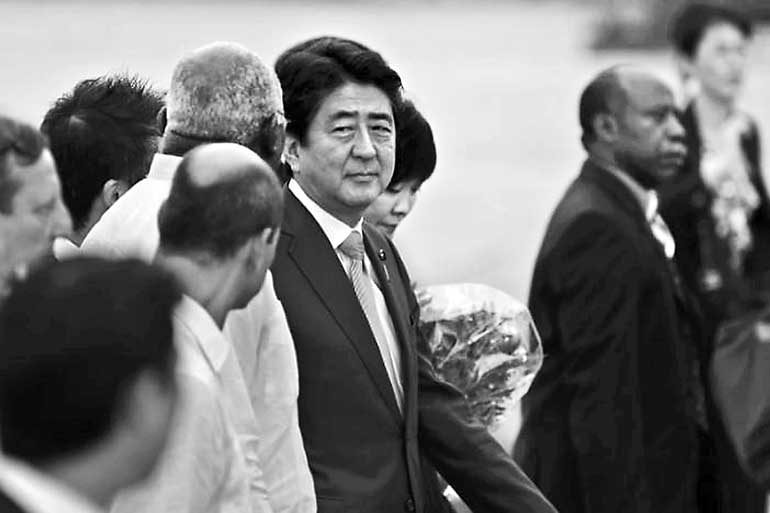 Japan's Prime Minister Shinzo Abe (C), talks to Cuban authorities upon his arrival at the Jose Marti International Airport in Havana, Cuba, 22 September
Havana (Reuters): Prime Minister Shinzo Abe, the first Japanese leader to visit Communist-ruled Cuba, called for a strong and unified international response to North Korea's nuclear program in rare talks with former Cuban leader Fidel Castro on Thursday.

Cuba is one of North Korea's few diplomatic allies, along with China, and a fellow member of the non-aligned movement formed in 1961 by states wanting to avoid siding with the United States or the Soviet Union.

North Korea has been testing nuclear weapons and ballistic missiles at an unprecedented rate this year and claims it has mastered the ability to mount a warhead on a ballistic missile, a worrying prospect for neighbours South Korea and Japan.

"The PM pointed out the necessity (for) the international community to respond to this rigorously in unity," Japanese foreign ministry spokesman Yasuhisa Kawamura told reporters after Abe's 70-minute meeting with Fidel Castro, the predecessor and elder brother of Cuban President Raul Castro.

Fidel Castro visited the site of the world's first atomic bombing Hiroshima in 2003 and left a message in the guestbook saying "May such barbarity never happen again". He told Abe the issue of Pyongyang's nuclear program should be resolved peacefully through dialogue, Kawamura said.

Abe's visit to the Caribbean island is one of a slew by Western leaders since it began normalizing ties with the United States nearly two years ago. U.S. President Barack Obama visited Cuba in March. However, it is unusual for a Western leader to meet Fidel Castro, who usually only sees close allies.

The Japanese Prime Minister met Raul Castro later in the evening to discuss how Japan and Cuba could deepen bilateral relations, in particular in the commercial and economic spheres, Cuban state media reported.

Japan has a long history of trade with Cuba, importing seafood, tobacco and coffee while exporting machinery.

Abe said in an interview published in Cuba's Communist Party newspaper Granma on Thursday he hoped to expand that economic relationship in a new era heralded by Cuba's detente with the United States and business-friendly reforms.

"I believe firmly that Japanese companies can, as reliable partners, make a notable contribution to a Cuba that is updating its socio-economic model," Abe said

The reorganisation of Cuba's debt toward Japan, signed this week, should help toward that goal, he said, with some of it now assigned towards development projects.

Cuba's other long-term trading partners have already used debt forgiveness, swaps and new financing to try to win investment opportunities on the island.