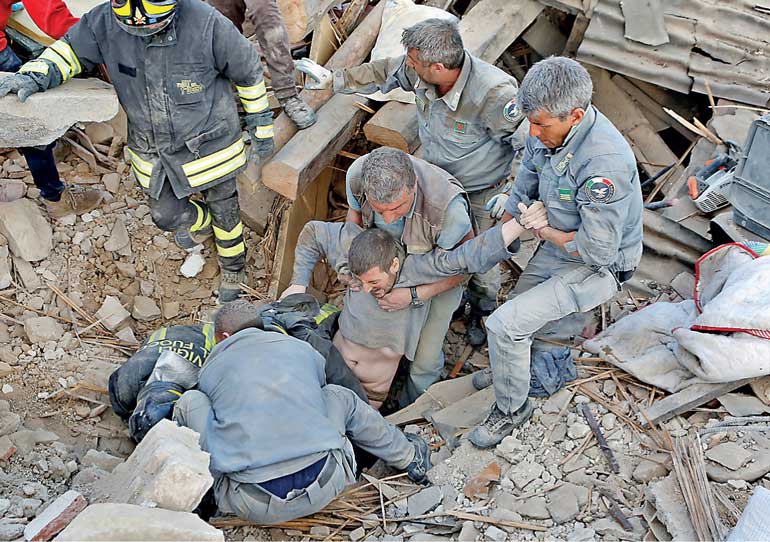 A man is rescued alive from the ruins following an earthquake in Amatrice, central Italy. REUTERS
Reuters: The death toll from a devastating earthquake in central Italy rose sharply to almost 250 people early on Thursday after rescue teams worked through the night to try to find survivors under the rubble of flattened towns.

The provisional toll jumped to 247 from the 159 dead listed on Wednesday night, national and regional officials said as a wave of aftershocks rattled a cluster of mountain communities 140 km (85 miles) east of Rome.

The strong 6.2 magnitude quake razed homes and buckled roads in a cluster of mountain communities 140 km (85 miles) east of Rome. It was powerful enough to be felt in Bologna to the north and Naples to the south, each more than 220 km (135 miles) from the epicenter.

Rescuers working with emergency lighting in the darkness saved a 10-year-old girl, pulling her out of the rubble alive, where she had lain for some 17 hours in the hamlet of Pescara del Tronto.

Many other children were not so lucky. In the nearby village of Accumoli, a family of four, including two boys aged 8 months and 9 years, were buried when their house imploded.

As rescue workers carried away the body of the infant, carefully covered by a small blanket, the children's grandmother blamed God: "He took them all at once," she wailed.

Prime Minister Matteo Renzi said the Cabinet would meet on Thursday to decide measures to help the affected communities.

"Today is a day for tears, tomorrow we can talk of reconstruction," he told reporters late on Wednesday as he announced 120 bodies had been found and 368 people had been taken to hospital.

Aerial photographs showed whole areas of Amatrice, last year voted one of Italy's most beautiful historic towns, flattened by the quake. Inhabitants of the four worst-hit small towns rise by as much as tenfold in the summer, and many of those killed or missing were visitors.

Italy's earthquake institute, INGV, said the epicenter was near Accumoli and Amatrice, which lie between the larger towns of Ascoli Piceno to the northeast and Rieti to the southwest.

It was relatively shallow at 4 km (2.5 miles) below the earth's surface. INGV reported 150 aftershocks in the 12 hours following the initial quake, the strongest measuring 5.5.Italy sits on two fault lines, making it one of the most seismically active countries in Europe.The last major earthquake to hit the country struck the central city of L'Aquila in 2009, killing more than 300 people.