Reuters: Talks with India impossible without Kashmir being on the agenda, said Pakistan's Advisor on National Security and Foreign Affairs, Sartaj Aziz, on Monday (July 13).

Aziz's comments come days after Indian Prime Minister Narendra Modi accepted an invitation from his Pakistani counterpart, Nawaz Sharif, to visit the neighbouring nation during their first bilateral talks in over a year.

Sharif and Modi met for nearly one hour on the sidelines of the Shanghai Cooperation Organisation (SCO) summit in Ufa, Russia,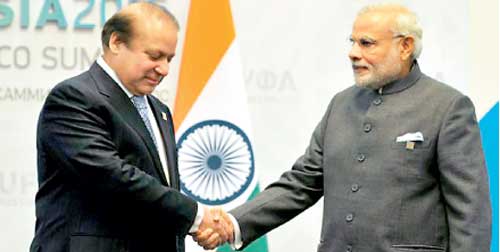 last week.

Since Sharif visited India in May last year to attend Modi's swearing-in, the two leaders have not met barring an "informal" chat during the SAARC summit in November last year.

The meeting held on Friday (July 10) provided the two leaders an opportunity to check the rapid descent of ties which started after the release of 26/11 Mumbai attacks mastermind Zaki-ur Rahman Lakhvi from jail earlier this year.

"First of all, as I mentioned, that this is not a formal dialogue; this is an initial interaction, and the statement says very clearly that both sides agreed on the need to discuss and resolve all issues. So now, we are not going to beg or show over-anxiety about dialogue. If India now follows up this with the next step of seeking a formal dialogue, then I can assure you that no dialogue will take place unless Kashmir is on the agenda. So that is our clear position in that sense," said Aziz while addressing a news conference in Islamabad.

Speaking about the Mumbai attack and the fact that India has been upset over the release of LeT operations commander Zaki-ur Rahman Lakhvi by a Pakistani court, Aziz said Pakistan needs more information and evidence from India in this regard.

India blames the Pakistan-based militant group Lashkar-e-Taiba for the Mumbai attack. Ten gunmen infiltrated the city by boat and spent three days spraying bullets and throwing grenades around city landmarks.

Indian experts slammed Pakistan and said that such statements raised questions about its intentions to resolve the conflicts with India.

Defence expert, Alok Bansal, said that Aziz's statement was an attempt to counter the criticism that the Pakistani leadership invited post extending an invitation to Modi.

"Well I think what Sartaj Aziz is talking is for the domestic audience because after the joint communiqué by the two foreign secretaries there was lot of criticism within Pakistan that this particular meeting was actually a sell out from Pakistan's point of view, and as a result what Sartaj Aziz is trying is to assuage the domestic audience," said Bansal.

Bansal added that India and already handed over sufficient proof to Pakistan and now the ball was in latter's court.

Pakistan's demand for more evidence in Mumbai attacks follows the prosecution team chief, Chaudhry Azhar, saying on Sunday (July 12) that Pakistan government will not file a fresh petition in an anti-terrorism court seeking the voice samples of Lakhvi.

Lakhvi was arrested in Pakistan in 2009 and later that year, he, and six other suspects, were charged in connection with the Mumbai attack. Local media said at the time they had pleaded not guilty and case is still pending.

Lakhvi was originally granted bail by an anti-terrorism court in Islamabad on December 18, 2014, two days after an attack on a high school in Pakistan's Peshawar killed 132 children. The Taliban claimed responsibility for the assault.

The fact that he was granted bail just two days after the school massacre forced the government to detain Lakhvi under "Maintenance of Public Order" legislation.

He was finally granted bail in April this year for lack of sufficient evidence.

Senior lawyer, KTS Tulsi, said that such statements exposed Pakistan's double standards.

"It's most unfortunate. It only shows that Pakistan does one thing and does another. There is a complete duplicity in their actions and their speech," said Tulsi.

Tulsi added that Pakistan's refusal to share the voice samples of Lakhvi proved the fact that it was well aware of Lakhvi's involvement in the Mumbai attacks.

Meanwhile, India's opposition Congress party lashed out at Modi and said that the leader had embarrassed the entire country.

A Congress party leader, Anand Sharma, said that the party will seek an explanation from the prime minister in Parliament.

"We have been nose led into a situation which has caused India national embarrassment and the prime minister is squarely responsible and answerable. What was the assurance, what was the justification for their joint statement? It is not worth the paper on which it was written," said Sharma.

Relations between India and Pakistan, which have fought three wars since independence in 1947, nosedived after the assault and have not fully recovered. A dispute over the Kashmir region periodically flares into violence.

In most cases India blames outbreaks of fighting along the border on Pakistani troops. It says Pakistani troops give cover to separatist militants trying to enter India's part of Kashmir.

On the other hand Pakistan says India's military is abusing the human rights of Muslim Kashmiris and dismisses Indian claims of infiltration as greatly exaggerated.