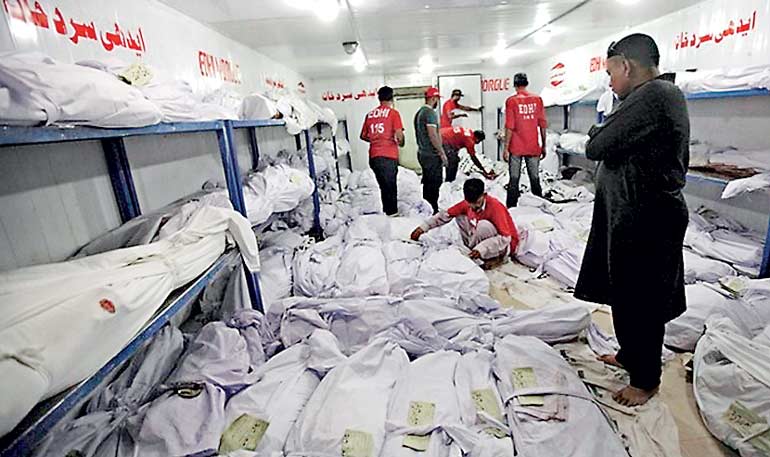 A volunteer puts an identification paper onto the body of a heatstroke victim among other bodies in cold storage at a morgue in Karachi, Pakistan, on June 22- AFP
Reuters: A devastating heat wave has killed more than 400 people in Pakistan's southern city of Karachi over the past three days, health officials said on Tuesday, as paramilitaries set up emergency medical camps in the streets.

The heat wave, which coincides with major power cuts, has led to harsh criticism of the provincial government's crumbling public health system and K-electric, the private company that supplies electricity to Karachi, the richest city in Pakistan and home to 20 million people.

Temperatures have touched 44 degrees Celsius (111 degrees Fahrenheit) in the steamy port city in recent days, up from a normal summer temperature of 37 C (99 F). But meteorological authorities say rain is due.

"We are anticipating a sea breeze will set in some time tonight. The temperature will come down as the monsoon rain enters the Sindh coast, bringing rain to the city," said Ghulam Rasool, director general of the Meteorological Department.

A morgue run by the charity Edhi Foundation has received more than 400 people who died due to complications from the heat in the past three days, official Anwar Kazmi told Reuters.

Further deaths were reported in the rest of the province but a full tally was not available.

"Our morgue is working close to its capacity. We are advising people not to delay burials and try to bury their dead as early as possible in this heat," Kazmi said.