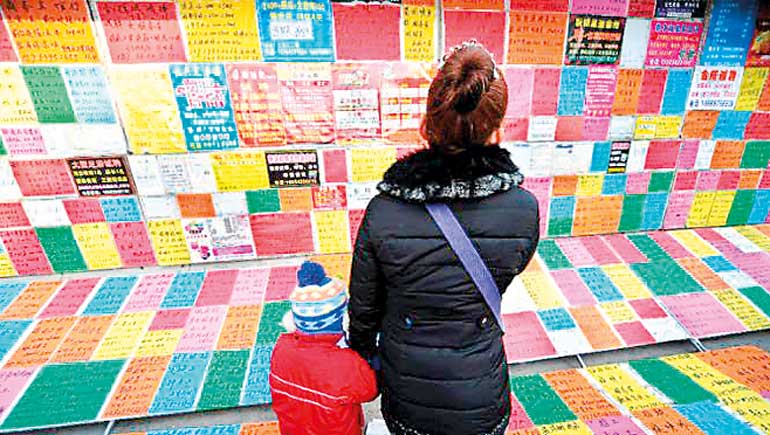 A jobseeker looks through listings at a recruitment fair in Qingdao, in China's eastern Shandong province (AFP)
AFP (Shanghai): G20 finance ministers gather in Shanghai from Friday with the global economy assailed on multiple fronts, from China's slowing growth to weak commodity prices, amid simmering disagreements over how best to face the challenges.

The International Monetary Fund (IMF) on Wednesday warned risks of a "derailed recovery" are growing, citing China's faltering economy, falling oil and commodities prices and financial market turbulence.

That came after the 34-member OECD cut its 2016 global growth forecast from 3.3% to 3.0%.

Ahead of the G20 meeting among the gleaming towers of Shanghai's financial district, the IMF said: "Strong policy responses both at national and multi-lateral levels are needed to contain risks and propel the global economy to a more prosperous path."

The G20 – which groups 19 countries and the European Union – was born in the wake of the 1997 Asian financial crisis and upgraded to a summit of leaders in 2008 to tackle the global financial crisis.

Now, global oil prices are at multi-year lows, the threat of Britain leaving the European Union in a possible "Brexit" is looming, and world bourses have tumbled since the start of the year.

US Treasury Secretary Jacob Lew denied the situation had reached crisis levels, but chided other countries for relying too heavily on the United States to be the main engine for global growth.

"We can't be the consumer of first and last resort. There needs to be more," he told Bloomberg Television in an interview.

"It means that in countries that are big economies, regions that have big economies, they need to use policy tools."

German Finance Minister Wolfgang Schaeuble urged G20 central bankers to communicate better, criticising conflicting US Federal Reserve announcements on interest rates in an interview with national news agency DPA.

But he added: "We have to stop once and for all blaming each other ahead of these meetings to divert the attention from our own problems."

China's own travails will loom over the meeting after the world's second-largest economy grew 6.9% in 2015 – the worst in a quarter century and a far cry from the fat years of double-digit increases.

A shock currency devaluation in August, which saw the normally stable yuan guided down nearly five percent in a week followed by another drop in January, raised suspicions Beijing is pursuing a currency war to make its exports cheaper. Chinese officials have denied the accusations.

A stock market crash starting in mid-June, during which China's benchmark index lost more than 40% from its peak, has also raised alarm.

"China was the mainstay of global economic growth after 2008," Yale University finance professor Chen Zhiwu told AFP. "Now people are worried about the opposite problem with China's growth getting slower and slower."

Prices of commodities, ranging from copper to coal, have plunged as China's voracious appetite for raw materials diminishes, sending shock waves through producer economies such as Australia.

The price of oil has dropped from more than $100 a barrel in July 2014 to just over $30 in recent days, driven lower by slowing global growth and a booming supplies from the US and Middle East. Friday's meeting will set the stage for a more high-profile G20 leaders' summit hosted by Chinese President Xi Jinping on 4-5 September that will include US President Barack Obama, which is envisioned as one of the highlights of Xi's administration.
---
China Feb official factory PMI seen shrinking for 7th month
Reuters: Activity in China's vast manufacturing sector likely shrank for a seventh straight month in February, a Reuters polled showed, adding to signs that business conditions in the world's second-largest economy are continuing to decelerate.

The official manufacturing Purchasing Managers' Index (PMI) is expected to dip to 49.3 in February from 49.4 a month earlier, according to a median forecast of 23 economists in a Reuters poll. January's reading was the weakest since August 2012.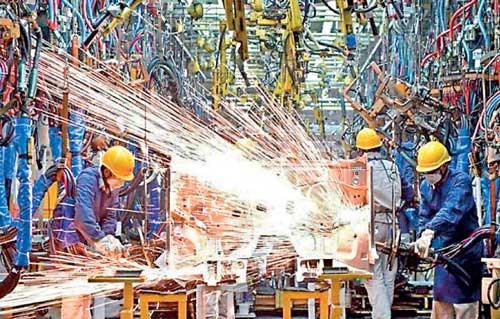 A reading below 50 points suggests a contraction in activity, while a reading above indicates an expansion on a monthly basis.

The continued weakness comes despite a massive injection of credit from Chinese banks in January, which has been widely attributed to a government push to head off risks of a sharper economic slowdown.

Banks dished out a hefty 2.51 trillion yuan ($384.23 billion) of new loans last month, although the full effect of the impetus will not be felt overnight.

"Funds injected in January should take some time before making a positive impact on the real economy," said Zhang Cheng, an analyst at GF Development Bank in Shanghai.

Questions remain, however, over whether many Chinese factory owners are in any mood to take on new debt to expand, with persistently sluggish demand at home and abroad leaving them with significant idle capacity already.

Top officials have made reducing overcapacity, particularly in "rust-belt" heavy industries, one of their key policy goals in 2016, but such a move would risk massive layoffs and saddling banks with loan defaults in the short-term, even if it promises greater long-term dividends.

Analysts also cautioned that Chinese economic trends can be distorted in January and February by the long Lunar New Year holidays, when many businesses typically scale back operations or close for lengthy periods of time. That will leave global investors waiting for March data for a clearer picture of the health of the economy.

China's industrial output will stabilise and is expected to grow around 6% in 2016, the Ministry of Industry and Information Technology said on Thursday, slightly lower than the 6.1% recorded in 2015.

China's top leaders reiterated a pledge on Monday to keep economic growth within a reasonable range this year while maintaining a pro-active fiscal policy and prudent monetary policy.

Weighed down by sluggish demand, overcapacity, cooling investment and a sluggish property market, the economy grew 6.9% in 2015, its weakest in a quarter of a century, and economists see growth cooling further to 6.5% this year.

Some market watchers believe real growth levels may already be much weaker.

The official manufacturing PMI data will be released on March 1, along with the official services PMI.

The Markit/Caixin factory PMI, a private and separate gauge of manufacturing data, will also be released on 1 March.