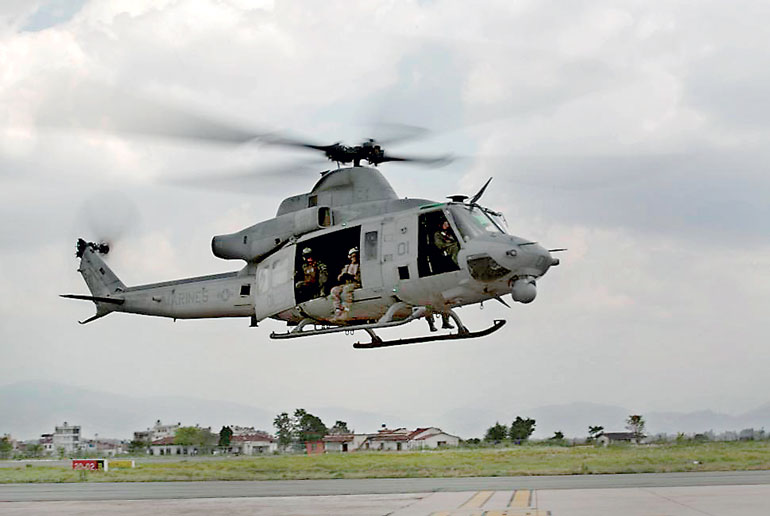 A UH-1Y Huey helicopter flies into the Tribhuvan International Airport after a search and rescue operation in Kathmandu, Nepal, May 13, 2015. REUTERS/Thor J. Larson/U.S. Marine Corps/Handout
Military helicopters flew over eastern Nepal and a team sent up a drone on Thursday to search for a missing U.S. Marines Huey chopper, as the death toll rose from the Himalayan country's second big earthquake in less than three weeks.
A Reuters correspondent flew on a Nepali military helicopter along the Tamakoshi river that runs by the town of Charikot, in the mountainous Dolakha district worst hit by Tuesday's 7.3 magnitude quake that killed nearly 100 people.

The river winds through rugged Himalayan terrain in an area whose tallest peak soars over 7,000 metres (23,000 ft). Hillsides are cloaked with dense forest that would make it hard to sight the chopper that went missing after the crew was heard over the radio saying the aircraft had a fuel problem.

In Koshikhet village, a U.S. civilian team was using a drone to search for the missing Marine Corps UH-1Y, or Huey as the model is better known, which was carrying six Marines and two Nepali soldiers.

"We are using infrared vision to look for hotspots and any signs of life," said drone operator Shepherd Eaton, from GlobalMedic, a U.S. aid agency that specialises in search and rescue.

The search, involving U.S., Indian and Nepali military choppers and a battalion of 400 Nepali soldiers, has been joined by two MV-22B Osprey, a tilt-rotor aircraft capable of taking off and landing vertically.

So far, no sign has been found of the Huey, which was on an aid mission in Dolakha district near Tibet when it lost contact on Tuesday.

The death toll from Tuesday's tremor reached 91, Nepal's home ministry said on Thursday.

Another 2,428 people were injured in the quake, which struck 17 days after a huge earthquake killed more than 8,000 people and damaged or destroyed hundreds of thousands of buildings in the impoverished Himalayan nation.

Prime Minister Sushil Koirala, visiting Dolakha district, said massive landslides made relief work difficult. "Still, we are fighting," he said.

Koirala gave up his seat on his helicopter so that a woman with critical head injuries could be evacuated from Charikot to Kathmandu. He only flew back to the capital when it returned.
---
Nepal lacking funds to rebuild quake-hit areas: Minister
KATHMANDU: Nepal's government is facing a shortfall in funds to rebuild the country, after a second earthquake that struck on Tuesday (12 May) halted relief efforts.

Government officials have started to put together estimates of money needed for nationwide reconstruction.

"At the outset we have set aside a dedicated fund for national reconstruction, which is worth about US$2 billion," said Information Minister Dr Minendra Rijal on Thursday.

"Of that, US$200 million will be met through our own internal resources, which leaves a funding gap of US$1.8 billion for a country whose total development expenditure every year is about US$1.5 billion. It's going to be quite challenging."

Dr Rijal also expressed gratitude for the support the world has shown to Nepal, but added that moving forward, government channels should be the main conduits for aid distribution.