AFP: Chinese President Xi Jinping touted the need to build a "world-class" army capable of "defeating all invading enemies" at a military parade held Sunday to mark the 90th anniversary of the People's Liberation Army (PLA).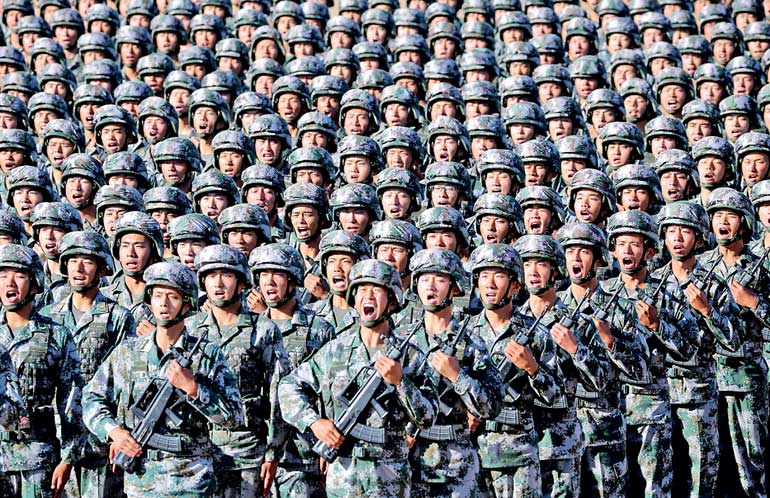 Soldiers of China's People's Liberation Army (PLA) get ready for the military parade to commemorate the 90th anniversary of the foundation of the army at Zhurihe military training base in Inner Mongolia Autonomous Region, China, 30 July – China Daily via REUTERS
Since coming to power in 2012, the president has trumpeted building a stronger, combat-ready army, while leading efforts to centralise the ruling Communist Party's control over the PLA, the world's largest standing military.

Sunday's procession – including 12,000 service personnel and about 700 aircrafts and pieces of ground equipment – marked the first time Xi has observed a parade of this size staged in the field, according to the ministry of defence.

"The world is not all at peace. Peace must be safeguarded," Xi, wearing a camouflage military suit, said in a speech at the expansive Zhurihe training base in the Inner Mongolia Autonomous region.

"Today we are closer than ever before to the goal of the great rejuvenation of the Chinese nation, and – more than any other time in history – we need to build a strong people's military."

Xi also ordered the PLA to "unswervingly stick to... the Party's absolute leadership," saying the military should "march to wherever the Party is pointing."

Defense ministry spokesman Ren Guoqiang said in a statement that the parade was intended to create a "good atmosphere" ahead of an important party congress later this year when Xi is expected to further consolidate his grip on power.

The president stood inside an open-top jeep that drove past lines of troops for his inspection.

"Comrades, thanks for your hard work," he said, to which the troops responded: "Serve the people!"

China said in March it would raise its defence spending by around seven percent this year, the slowest annual percentage increase since 1991.

Beijing is engaged in a decades-long build-up and modernisation of its once-backward armed forces, as it seeks military clout commensurate with its economic might and increasingly asserts its disputed territorial claims in Asian waters.

The PLA, originally called the Chinese Workers' and Peasants' Red Army, was founded in 1927 when Communist soldiers seized the southern Jiangxi provincial town of Nanchang from Nationalist Party ("Kuomintang") armies in what is known today as the Nanchang uprising.