AFP (Beijing): China criticised US President Barack Obama on Thursday (16) for hosting the Dalai Lama at the White House, despite efforts to avoid irking Beijing by holding the meeting off-camera and out of the public eye.

Obama carried out what has become a political rite in Washington, spiriting the exiled Tibetan religious leader into the White House through the back door - and prompting the usual Chinese denunciations.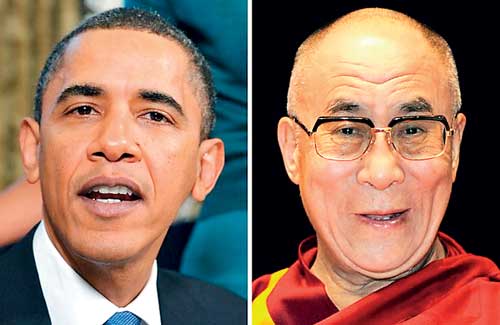 "No matter in what way the US leader met with the Dalai Lama, the meeting violated the US promises of acknowledging Tibet as a part of China, not supporting Tibet independence and not supporting separatist activities," Lu Kang, a Chinese foreign ministry spokesman, told reporters in Beijing.

"Such a meeting will hurt China-US mutual trust and cooperation."

Since coming to office, Obama has hosted the Dalai Lama four times. Each time, Obama has tried to limit the fallout by holding the meeting behind closed doors.

Obama was criticised in 2010 for obliging the 80-year-old, clad in his characteristic red robes and flip flops, to leave the White House through a rear entrance and walk past piles of snow and bags of rubbish.

This latest confab took place in the Map Room, not the Oval Office, and the press was not invited - which meant no images of the two Nobel peace laureates emerged from the meeting.

"The personal nature of their meeting would explain why the president received the Dalai Lama in the White House residence, as opposed to the Oval Office," said White House press secretary Josh Earnest.

Obama calls the monk, who is revered by Tibetans but portrayed by Beijing as a dangerous separatist, "a good friend".

He made a highly-publicised public appearance with the Dalai Lama last year at a prayer breakfast in Washington, calling him "a powerful example of what it means to practice compassion".

The spiritual leader - who has lived in exile in the north Indian town of Dharamsala since a failed 1959 uprising - has for decades called for more Tibetan autonomy rather than independence.

Beijing maintains he is a "wolf in monk's clothing" and vigorously lobbies - often successfully - against foreign leaders meeting him.

In a statement after the meeting, the White House said Obama had "encouraged meaningful and direct dialogue between the Dalai Lama and his representatives with Chinese authorities to lower tensions and resolve differences".

Obama also "emphasised his strong support for the preservation of Tibet's unique religious, cultural and linguistic traditions, and the equal protection of human rights of Tibetans in China", according to the White House statement.

But some exiled Tibetans questioned the value of such meetings, urging bolder action from Washington.