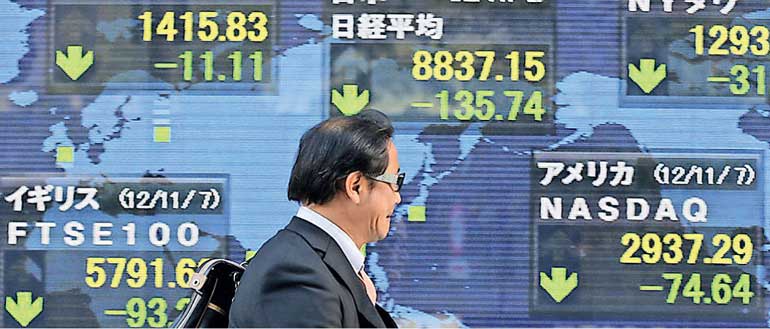 Reuters: Asian stocks extended gains for a fifth consecutive day on Wednesday, as renewed optimism about the world's biggest economy brightened the outlook for risky assets while the euro held on to previous gains as political concerns in France ebbed.

MSCI's broadest index of Asia-Pacific shares outside Japan rose 0.5%, hovering near their highest since June 2015. Stock markets in Japan and Australia led gainers.

European markets were pointing higher in opening trades with index futures up between 0.05 and 0.1%.

"We are carrying on the momentum from the overnight rally in the US markets and financials are in the spotlight on expectations of good earnings," said Alex Wong, a fund manager at Ample Capital Ltd. in Hong Kong, with about $130 million under management.

The outlook for Asian markets is looking favourable with the MSCI Asia ex-Japan index having broken above a technical level, suggesting more room for gains.

A strong finish to US markets was the main driver for Asia. The Nasdaq Composite hit a record high on Tuesday, while the Dow and S&P 500 brushed against recent peaks as strong earnings underscored the health of corporate America.

Fanning the market's rally were reports that President Donald Trump's tax reform proposals, due to be announced on Wednesday, would include a slashing of the corporate tax rate and lower taxes on offshore earnings stockpiled by US companies overseas.

The threat of a US government shutdown this weekend also receded after Trump backed away from demanding Congress include funding for his planned border wall with Mexico in a spending bill.

Financials led the Hong Kong stock market higher as fund managers bet on expectations the quality of banks' balance sheets will likely get better on an improving economic cycle and cheaper valuations.

In Hong Kong, for example, the financial sector trades at a forward price-to-earnings ratio of 8.7 times compared with traditional market darlings of technology stocks at 29 times, according to Thomson Reuters data.

In currency markets, the euro built on strong gains posted this week after business-friendly centrist Emmanuel Macron won the first round of the French vote on Sunday and opinion polls indicated less support for the eurosceptic Marine Le Pen. While that is not expected to sway the European Central Bank into further action at Thursday's meeting, policymakers see scope for sending a small signal in June towards reducing monetary stimulus, according to sources, another factor underpinning the single currency.

"In our view, downside risks to growth have actually decreased with the outcome of the first round of the French election...the underlying tone of the press conference should still be positive," Holger Sandte, a strategist at Nordea markets wrote in a note.

The euro was steady at $1.09480, retaining most of Monday's 1.3% gain. On Monday it posted its strongest one-day performance in 10-1/2 months, which lifted the common currency to a 5-1/2-month high. Growing appetite for risk meant safe-haven assets fell out of favour, with US 10-year Treasury yields firming to 2.34% from 2.23% on Friday.