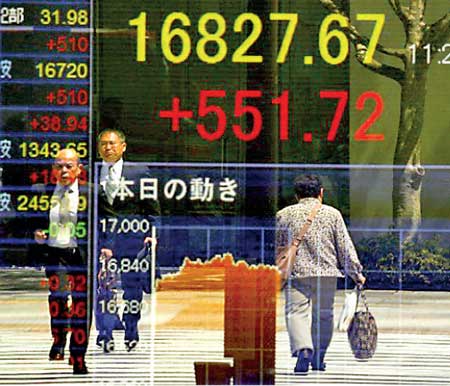 Tokyo (Reuters): Asian shares stepped back from more than two-year highs on Tuesday and the dollar extended losses as passage of a U.S. healthcare bill grew doubtful, and as investors bet the Federal Reserve will be more cautious about raising interest rates.

MSCI's broadest index of Asia-Pacific shares outside Japan was down 0.1%, a day after scaling its loftiest levels since April 2015.

Republican Senators Jerry Moran and Mike Lee announced their opposition on Monday to legislation to dismantle and replace the Affordable Care Act, commonly known as Obamacare, leaving it without enough votes to pass.

U.S. S&P stock futures edged down slightly after the news, but then steadied and were flat on the day.

Wall Street ended little changed on Monday in low-volume trading, as investors braced for a flood of second-quarter earnings reports later this week.

The dollar, already down in early trade, extended losses. It slipped 0.4% on the day to 112.21 yen, well below its nearly four-month high of 114.495 touched last week.

The euro jumped 0.5% to $1.1529, pushing to its highest since May 2016.

The dollar index, which tracks the greenback against a basket of six major rivals, wallowed at 94.773, plumbing its lowest levels since September 2016.

"It's hard to be bullish on the dollar, both from the monetary side and from the U.S. politics side," said Masafumi Yamamoto, chief currency strategist at Mizuho Securities.

Fading support for U.S. President Donald Trump was weighing on the dollar, he said, as the U.S. administration struggled to gather enough backers in the Senate to pass the healthcare reform bill, raising doubts about how the rest of its ambitious agenda would fare.

"Trump's falling popularity, although it was not spectacular from the beginning, is another hurdle for pushing for the changes, and that will be negative for the U.S. economy and the dollar," said Yamamoto.

Japan's Nikkei stock index dropped 0.6%, as markets resumed trading after a public holiday on Monday and caught up to the resurgent yen.

Fading U.S. rate hike bets also weighed on the dollar. Fed funds futures continue to show less than a 50% chance of a rate hike in December after Fed Chair Janet Yellen sounded a cautious tone last week in congressional testimony, and following downbeat U.S. inflation and retail sales data on Friday.

"U.S. data is still not strong," said Harumi Taguchi, principal economist at IHS Markit in Tokyo. The combination of that data and the political situation has pressured U.S. Treasury yields, which undermines the dollar, she said.

The U.S. 10-year yield stood at 2.305% in Asian trading, down from its U.S. close on Monday of 2.309%.

"We still expect the Fed to hike in December, but unless the market expects the same, I don't think interest rate differentials are going to widen," Taguchi said.

Overall Asian sentiment remained underpinned by solid China data on Monday, which showed its economy expanded at a faster-than-expected 6.9% clip in the second quarter, setting the country on course to comfortably meet its 2017 growth target.

The weaker dollar lifted spot gold which rose 0.3% to $1,237.76 per ounce.