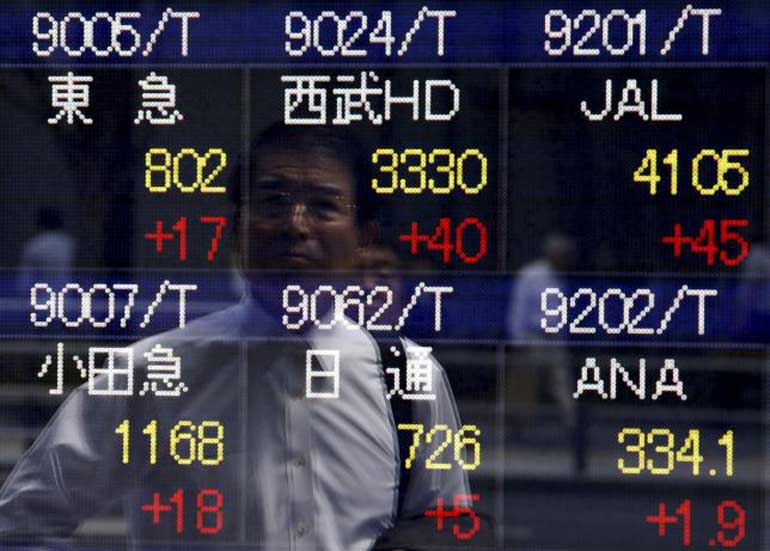 A pedestrian is reflected in an electronic board showing the various stock prices outside a brokerage in Tokyo, Japan, 20 May – Reuters
TOKYO (Reuters): A spike in US and German debt yields reduced the appetite for riskier assets to keep Asian share markets subdued on Wednesday, while the euro held gains made on upbeat euro zone inflation data and on hopes that Greece will reach a deal with creditors.


The Australian dollar rallied after strong GDP data further cooled prospects of a near-term interest rate cut.

Japan's Nikkei lost 0.3% and Australian shares shed 1.1%. The Shanghai Composite Index lost 1.4% on a string of initial public offerings and Indonesian stocks also slipped. In a patchy session for the region, the modest gainers included Malaysian, Thai and Hong Kong stocks.


MSCI's broadest index of Asia-Pacific shares outside Japan stood little changed.

Spreadbetters expected a flat open for Britain's FTSE, Germany's DAX and France's CAC ahead of the European Central Bank's policy meeting.

US Treasury yields spiked to two-week highs overnight after German Bund yields soared on stronger-than-expected euro zone inflation data. Consumer prices rose 0.3% year-on-year in May, beating forecasts for a 0.2% increase.

Higher bond yields tend to dent the attraction of stock investments relative to bonds, as seen last month during a global rout in debt markets.

The inflation data and corresponding rise in yields boosted the euro as well. The common currency gained further support when the European Central Bank, the European Commission and the International Monetary Fund agreed on the terms of a cash-for-reform deal to be put to Greece in a bid to conclude four months of debt stalemate.

It was far from clear if the leftist government of Prime Minister Alexis Tsipras would accept the plan, but markets took it as an encouraging step forward.


Focus for the time being was on the ECB's policy meeting, with the central bank widely expected to reaffirm its commitment to its quantitative easing scheme.


"If the ECB takes a stance towards capping the once-again rising Bund yields, the euro may retrace its gains. But if the ECB merely reiterates its stance towards its commitment to easing, then yields and the euro could rise further," said Masafumi Yamamoto, senior strategist for Monex Securities in Tokyo. The euro gained 0.1% to $1.1163 EUR= after rallying 2% overnight. The dollar lost 0.2% to 123.91 yen, compared with a peak of 125.07 struck overnight, its highest since late 2002.

The dollar index was little changed at 95.831 after shedding 1.6% on Tuesday.


The Australian dollar, already on a bullish footing after the Reserve Bank of Australia (RBA) took a neutral stance on interest rates Tuesday, got a further lift after data showed the country's economy topped forecasts and grew at its fastest in a year in January-March.


"It most probably puts a floor under any further RBA easing at this stage, this is pretty much in line with their expectations," said Michael Workman, senior economist at CBA in Sydney.


The Aussie was up 0.2% at $0.7791, putting more distance between a seven-week low of $0.7598 plumbed on Monday.

In commodities, crude oil fell as the possibility of OPEC not announcing an output cut at a meeting on Friday fed concerns about oversupply.


US crude fell 0.7% to $60.84 a barrel after surging 1.8% overnight the dollar's retreat. Brent shed 0.6% to $65.09 a barrel.