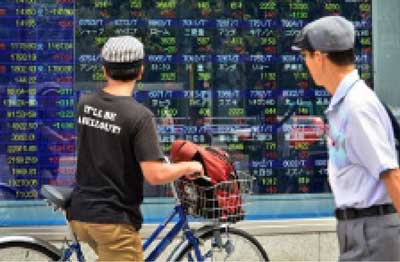 Reuters: Asian shares dipped on Thursday after lower crude oil prices dented Wall Street and a pair of Chinese manufacturing surveys did little to inspire investors as markets waited to see if US employment data could put the Federal Reserve on track to hike interest rates.

Crude oil futures took back some lost ground after skidding on news of a large weekly build in US crude and distillate stockpiles and a smaller-than-expected drawdown in gasoline.

Financial spreadbetter CMC Markets expected Britain's FTSE 100, Germany's DAX and France's CAC 40 to all open modestly higher.

"The latest UK manufacturing survey could well assuage some concerns about the health of the UK economy in the wake of the recent Brexit vote, if as expected we get a rebound from July's disappointing 48.2 reading, with an August rebound to 49.1 expected," wrote Michael Hewson, chief market analyst at CMC Markets in London.

MSCI's broadest index of Asia-Pacific shares outside Japan was off its session lows but still down 0.2%, while Australia's S&P/ASX 200 index shed 0.3%.

China's manufacturing activity stagnated in August as growth in output and new orders slowed, prompting companies to shed staff for the 34th month in a row, the private Caixin/Markit Manufacturing Purchasing Managers' index (PMI) showed. Its index slipped to 50.0 in August, the no-change mark which separates expansion of activity from contraction on a monthly basis, from 50.6 in July.

"Downward pressure on China's economy remains and government support to stabilise growth must continue," Zhengsheng Zhong, director of macroeconomic analysis at CEBM Group, said in a note accompanying the PMI report.

But China's official PMI survey was more upbeat and showed manufacturing activity picked up unexpectedly in August, nudging up modestly to 50.4, compared with the previous month's reading of 49.9. "Markets aren't showing much reaction to the official China PMI, even though it edged up slightly above the 50-point level," said Ayako Sera, market strategist at Sumitomo Mitsui Trust Bank. "It did not give much of a lift to Japanese markets, for which U.S. markets are a bigger factor."

Japan's Nikkei stock index shrugged off losses and managed to end up 0.2%. The dollar was down 0.1% at 103.36 yen, after rising as high as 103.54 on Wednesday, its highest since July 29. The euro edged down 0.1% to $1.1148.

Friday's US nonfarm payrolls report remains this week's key market focus, after Federal Reserve Vice Chair Stanley Fischer said last week the jobs data will be a factor in the timing of Central Bank interest rate hikes.

Employers are expected to have added 180,000 jobs in August, according to the median estimate of 89 economists polled by Reuters. [ECONUS]

The ADP National Employment Report on Wednesday showed U.S. private employers adding 177,000 jobs in August, slightly above the 175,000 forecast by a Reuters survey of economists, and contracts to buy previously owned homes surged in July.

But the dollar's gains were tempered after the Institute for Supply Management-Chicago said its business barometer dropped 4.3 points to 51.5 in August, falling short of expectations.

Crude oil futures, which posted robust gains for August, steadied after tumbling on Wednesday as data from the US Energy Information Administration rekindled fears of a supply glut.

Brent crude futures added 0.4% to $ 47.08 per barrel, after falling 2.8% overnight but still gaining 11% for August. US crude rose 0.5% to $ 44.92 after shedding 3.6% on Wednesday. It still gained more than 7% for the month.

Spot gold slipped 0.1% to $ 1,307.80 an ounce, moving back toward its overnight low of $ 1,304.91, which was its lowest level since 24 June.