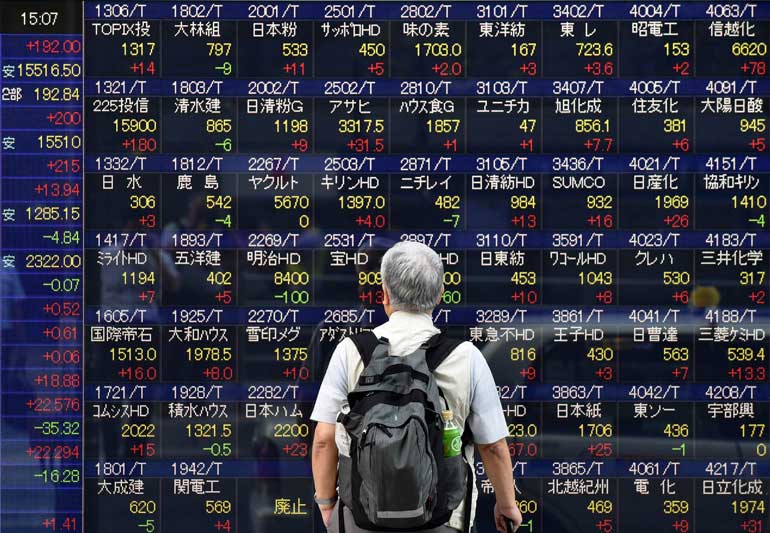 Tokyo (Reuters): Asian shares advanced on Wednesday despite another set of disappointing Chinese economic reports, as investors instead focused on hopes of further stimulus from Beijing to prevent a sharper slowdown in the world's second-largest economy.


European shares were expected to get the day off to a bright start, with financial spreadbetters predicting Britain's FTSE 100 would open up as much as 0.2% up, Germany's DAX 0.4% higher, and France's CAC 40 was seen up 0.3%.


MSCI's broadest index of Asia-Pacific shares outside Japan was off session highs but still up 0.3%.


China's factory output rose a less-than-expected 5.9% in April compared with the same period last year, boosting bets the government will have to step up its efforts to shore up the sputtering economy in order to meet its gross domestic product target.
Fixed-asset investment and retail sales also fell short of expectations.


"Expect the pace of easing to be increased, or at least maintained, by the authorities through the year, in order for the GDP target of 7% to be attained," said Chester Liaw, economist at Forecast Pte in Singapore.


On Sunday, the People's Bank of China announced it was cutting its benchmark one-year lending and deposit rates by 25 basis points, the third cut in six months. Economists expect more easing steps from Beijing to help support an economy headed for its slowest growth in a quarter of a century.


Japan's Nikkei stock index erased early losses and ended up 0.7%, shrugging off a weak cue from Wall Street.


US stocks finished lower on Tuesday after a recent run-up in global bond yields unsettled investors, though stocks recovered from steeper losses after Treasury yields pulled back slightly from six-month highs.


The yield on benchmark 10-year notes was last at 2.250%, down from its US close of 2.262%, and taking away some of the greenback's appeal.


The dollar marked modest losses against a basket of major currencies, dragged down by a stronger euro. The pound also firmed, moving back toward a five-month high touched in the previous session after upbeat UK data.


The dollar index edged down 0.1% on the day to 94.489 . Against the yen, the US currency stuck to its recent ranges and was nearly flat on the day at 119.89 yen, while the euro added about 0.2% to $ 1.1230.


Underpinning the euro, German bond yields climbed on Tuesday on optimism that inflation may have bottomed in the euro zone, though investors remained cautious about developments in debt-strapped Greece.


Greek Prime Minister Alexis Tsipras on Tuesday called on lenders to break an impasse in cash-for-reform talks after Athens had to resort to a temporary expedient to make a crucial payment to the IMF.


Investors await data later on Wednesday on the euro zone's first-quarter gross domestic product as well as US retail sales. The latter are expected to rise just 0.2% in April, slowing from March's 0.9%. "With the Fed so intensely focused on the data at present, these matter," said Emma Lawson, senior currency strategist at NAB.


Sterling edged up about 0.1% on the day to $ 1.5683 as investors awaited the Bank of England's quarterly inflation report later on Wednesday. It rose as high as $ 1.5710 overnight, its loftiest peak since mid-December.
Oil extends gains after US fuel stocks drop
Brent crude oil rose above $ 67 a barrel toward five-month highs on Wednesday after US crude stockpiles fell for a second straight week, suggesting that the world's biggest oil market is rebalancing.


US crude, gasoline and distillate stockpiles all fell last week, the American Petroleum Institute said on Tuesday, ending months of builds that have lifted stocks to record highs.


Oil shrugged off a bearish report from the International Energy Agency (IEA), which said that market fundamentals looked loose as global supplies increased, outpacing small rises in oil demand.


Brent for June LCOc1 was up 35 cents at $ 67.21 a barrel by 1100 GMT (7.00 a.m. EDT). Brent hit a high of $ 69.63 on 6 May, its strongest since December. US crude CLc1 was up 50 cents at $ 61.25 after reaching an earlier high of $ 61.83.


US crude rose 2.5% and Brent 3% on Tuesday, underpinned by a weaker dollar and tensions in the Middle East.


Many analysts, including the IEA, say that global oil market supply is rising as members of the Organization of the Petroleum Exporting Countries (OPEC) pump record levels in a battle for market share.


Global oil production exceeds demand by about 2 million barrels per day (bpd), or more than 2 percent.


The IEA cut its estimate of demand for OPEC oil this year by 300,000 bpd at the same time as raising its forecast for non-OPEC crude supply by 200,000 bpd.


But the oil market, which tends to focus on the US market, is still more concerned by evidence of a sharp slowdown in US production, particularly of shale oil.


The US Government has cut its 2015 forecast for crude output growth to 530,000 bpd from 550,000 bpd and 2016 growth to 20,000 bpd from 80,000 bpd.


"Lower oil prices are already showing signs of demand stimulation, especially in transportation fuels," Morgan Stanley analysts said in a note.


OPEC on Tuesday raised its 2015 global oil demand forecast to 1.18 million bpd, above a previous estimate of 1.17 million bpd.