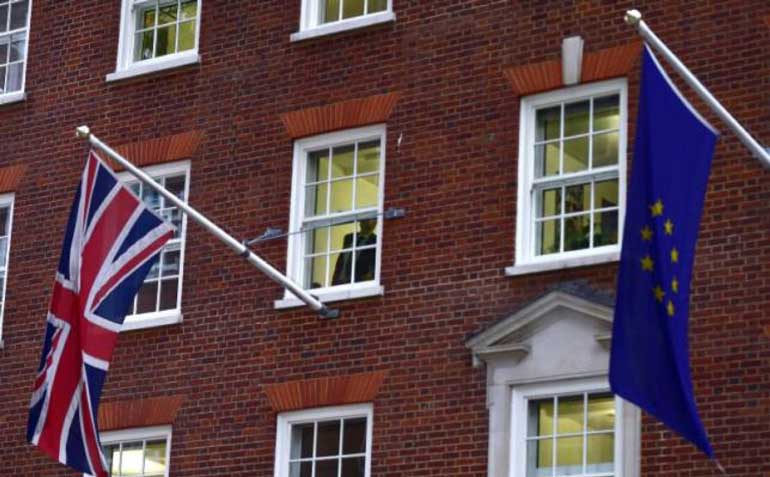 European Union and the British Union flags are seen flying outside of Europe House in London - REUTERS
BRUSSELS (Reuters): European Union leaders are not only unlikely to reach a deal next month with Britain on its demands for reform of the bloc but may not even narrow differences at a pre-Christmas summit, officials and diplomats said.

After a week of "confessional" meetings between aides to summit chairman Donald Tusk and envoys from other member states, which should conclude on Monday, people involved told Reuters many opposed demands British Prime Minister David Cameron laid out in a letter to Tusk two weeks ago.

Cameron has set an end-2017 deadline for a referendum on EU membership. In order to stay in, he says, London needs changes. The longer such negotiations with EU partners take and the more divided they become, the greater the risk he will fail to deliver such reforms.

One proposal many leaders object to is that immigrants from EU states should wait four years before receiving in-work benefits such as tax credits and support for children living abroad. Officials and diplomats see that as discriminating between EU citizens on national grounds, which they say jars with basic EU treaty law.

"The situation is between difficult and very difficult," one official said late last week, after more than 20 of the 27 other member states had had their meeting with staff working for Tusk, the European Council president whose job it is to forge compromise among the members of the European Union.

The one-to-one meetings, a standard EU procedure, are intended to frame negotiations and there had been some hope in recent months that at least the bulk of a deal might be ready for the Council to endorse at its next meeting on Dec. 17-18.

But the official said it was hard to imagine that a deal would be reached at that summit and that even constructive discussions were not a certainty: "Many countries say they want more Europe, not less Europe. And Cameron wants less Europe.

"There is no agreement on individual issues like the four years and no one will agree to discrimination."

A spokesman for the British government said: "We've always been clear that what matters is addressing the concerns of the British people. We'll be driven by substance not speed.

"The prime minister looks forward to a substantive discussion on the UK renegotiation at the December European Council."

Cameron will have to work hard in the coming weeks to sway EU leaders to achieve a successful outcome to negotiations.

Other EU leaders see him as failing to show solidarity on matters such as the influx of refugees to Europe and the euro zone crisis.