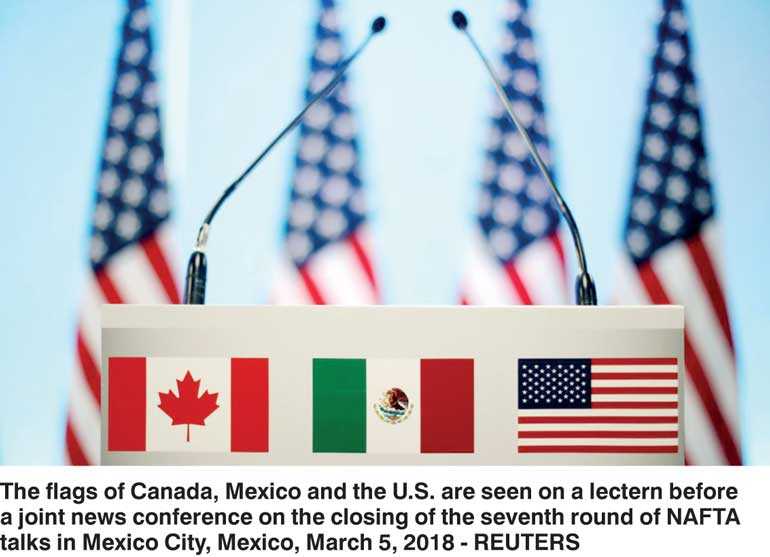 WASHINGTON (Reuters): President Donald Trump said on Saturday that the United States could reach a "big Trade Agreement" with Mexico soon as the incoming Mexican trade negotiator signaled possible solutions to NAFTA energy rules and a contentious U.S. "sunset clause" demand.

Trump tweeted on Saturday morning that the United States' "relationship with Mexico is getting closer by the hour. Some really good people within both the new and old government, and all working closely together....A big Trade Agreement with Mexico could be happening soon!"

Jesus Seade, who will serve as chief negotiator for Mexico's next government, said he and U.S. Trade Representative Robert Lighthizer were now discussing a periodic review process that spare the North American Free Trade Agreement from automatic expiration unless new terms were agreed.

Mexico and Canada have adamantly opposed the U.S. sunset demand that would kill the pact unless it is renegotiated every five years, a plan that business groups also say will stifle long-term investment decisions.

"It's going to come out. It's no longer what the United States was putting first in any way," Seade said of the sunset clause outside the U.S. Trade Representative's office.

Seade said he and Lighthizer last week began discussing a new approach to review the trade pact, that would have longer periods between reviews, providing more certainty for business investments.

A spokeswoman for the U.S. Trade Representative's office denied that Lighthizer had softened his position on the sunset clause, without further elaboration.

The sunset issue is one of the biggest remaining obstacles to a NAFTA deal as negotiators race to try to land a new NAFTA agreement in principle by the end of August.

The United States and Mexico have been holding bilateral talks aimed at resolving their differences before bringing Canada back to the talks.