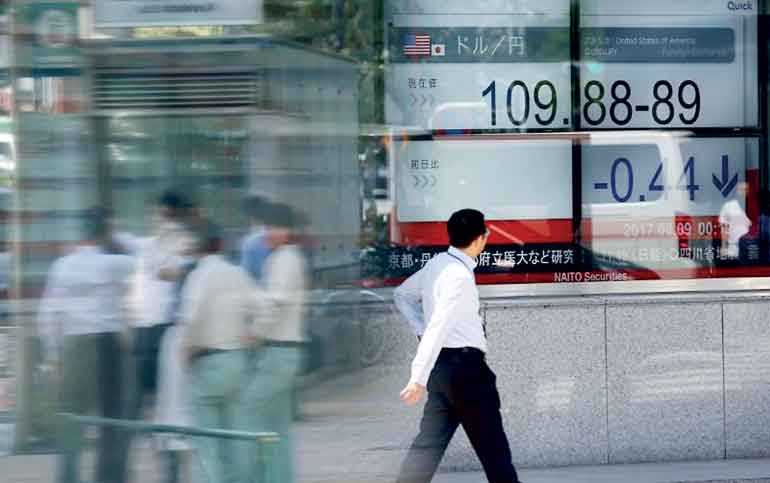 LONDON (Reuters): Investors sold equities on Wednesday and raced to buy Japanese yen and government bonds from the United States and Germany on fears that setbacks to US-China trade talks would undermine increasingly fragile-looking world growth.

The yen rose more than 1% against the dollar, US bond yields, which move inversely to price, fell to eight-day lows.

World shares meanwhile slipped half a% to a two-week low as weak euro zone data added to negative sentiment following US President Donald Trump's comments on the crucial trade talks.

Investors were also eyeing Turkey and Italy, with the former seemingly headed for a full-blown economic crisis as the Turkish lira plunged to new record lows.

Italian borrowing costs resumed their rise to hit new multi-month highs on fears that an incoming coalition will sharply boost government spending.

The risk-off mood was initially triggered by Trump saying he was not pleased with progress on trade talks with China.

Trump also floated plans to fine China's ZTE Corp and cast doubt on a planned 12 June summit with North Korean leader Kim Jong-Un.

Those developments are set to weigh on Wall Street later in the day, with S&P500 and Dow Jones futures down 0.6-0.8%.

In Asian trading, MSCI's ex-Japan Asian equity benchmark fell 0.3% and Japan's Nikkei lost 1.2% to reach 1-1/2-week lows.

European shares also fell, with one pan-European stock index down 1%.

Oil prices came off 3-1/2-year highs hit on concerns over supply from Venezuela and Iran. Brent futures were down 1%, inching further from the $80 per barrel milestone. Lower US yields sapped some of the appetite for the dollar, taking it more than 1% lower against the yen, heading for its biggest daily loss in a year.

Bond and currency traders worldwide are now waiting for US Federal Reserve minutes from its last meeting, to glean clues on how many more times the central bank might raise interest rates in 2018. The minutes are due later on Wednesday.

Against a basket of currencies, the dollar rose 0.2% and the euro bore the brunt with a 0.4% loss.

The single currency also fell against another "safe" asset, the Swiss franc, touching a near two-month low.

Elsewhere, emerging markets remained under heavy pressure, with currencies down 0.3-0.6% across the board. The selling storm was concentrated on Turkey where the lira fell more than 3.5%, bringing losses just in May to more than 16%.

Turkish bond yields have jumped to almost 15%, more than 250 bps up from the end of April, with an emergency interest rate rise looking all but certain.