Singapore (Reuters): Singapore has requested clarification regarding Malaysia's position on a high-speed rail link between the two countries, a minister in the wealthy city-state said on Friday (1 June), following media reports that its neighbour had decided to cancel the plan.

Malaysian Prime Minister Mahathir Mohamad this week said he was cancelling the project to link the capital, Kuala Lumpur, with Singapore. He said Malaysia would talk to its southern neighbour about any compensation it had to pay.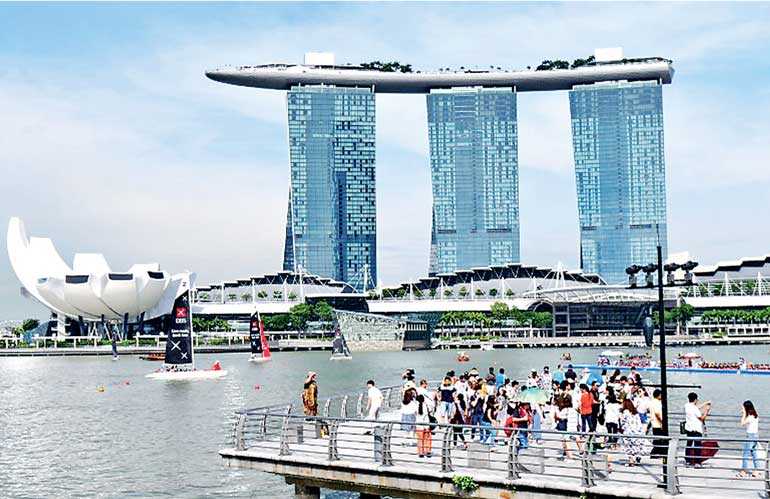 This photograph taken on May 27, 2018 shows people viewing the Marina Bay Sands hotel and resort from the Merlion Park in Singapore. — AFP


"We have informed the Malaysian government that Singapore is continuing to incur costs on this project as it awaits Malaysia's clarification," said Singapore transport minister Khaw Boon Wan.

If Malaysia terminated the project, Singapore would study the implications and exercise its rights, including any right to compensation for expenses incurred, under their agreement, he said in a statement.

"We still believe that a high-speed rail link between Singapore and Kuala Lumpur would be in our mutual interest, economically, as well as in terms of the friendship and mutual understanding of our two peoples," he added.While Singapore continued to support the project, it would only be tenable if Malaysia was also supportive and willing to fulfil its end of the agreement, added Khaw, who is also the coordinating minister for infrastructure.

On Friday, Malaysia's finance minister said the project was terminated for now, but could be revisited in the future.

The project, valued by analysts at about $17 billion and set to have been completed by 2026, would have cut travel time between Kuala Lumpur and Singapore to about 90 minutes from four or five hours by road now.

Mahathir estimates Malaysia could cut almost a fifth of its $250-billion national debt and liabilities by scrapping such big projects.
World Court drops Malaysia-Singapore territorial dispute
Amsterdam (Reuters): The International Court of Justice (ICJ) on Friday (1 June) said it has dropped a long-running territorial dispute between Malaysia and Singapore by mutual consent.

The court said Malaysia this week notified it of its intent to drop its claim to Pedra Branca Island, near the opening of the Straits of Singapore. After checking with Singapore, the court moved to cancel hearings scheduled for later this month and formally end the dispute.

In a 2008 ruling, the ICJ awarded the Middle Rocks formation to Malaysia while nearby Pedra Branca was given to Singapore. Malaysia last year sought to have the Pedra Branca part of the ruling overturned.

Malaysia's new Prime Minister Mahathir Mohamad said Wednesday (30 May) that his government planned to enlarge the Middle Rocks to form a small island. Singapore was once part of Malaysia but they separated acrimoniously in 1965, clouding diplomatic and economic dealings for years.

Some of the frostiest years were during Mahathir's previous tenure as prime minister between 1981 and 2003