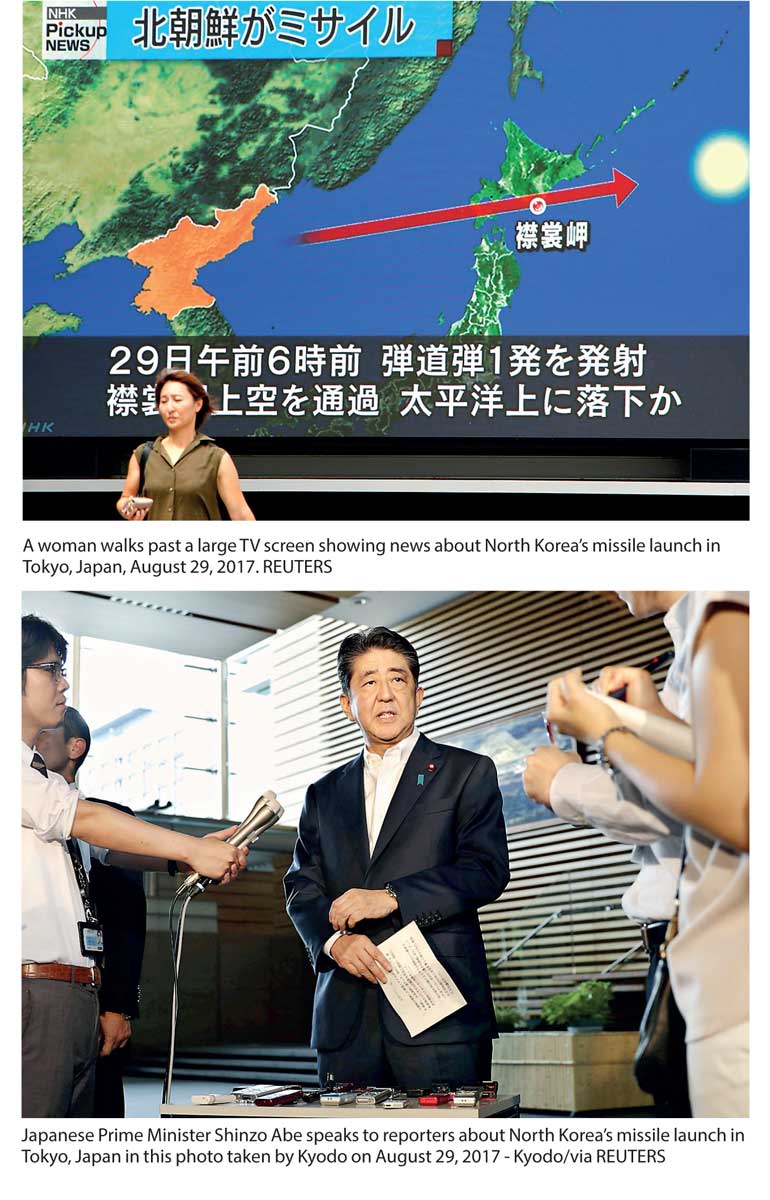 Tokyo/Seoul (Reuters): North Korea fired a ballistic missile over Japan's northern Hokkaido island into the sea early on Tuesday, prompting warnings to residents to take cover and drawing a sharp reaction from Japanese Prime Minister Shinzo Abe.

The test, one of the most provocative ever from the reclusive state, came as U.S. and South Korean forces conduct annual military exercises on the peninsula, to which North Korea strenuously objects.

North Korea has conducted dozens of ballistic missile tests under young leader Kim Jong Un, the most recent on Saturday, but firing projectiles over mainland Japan is rare.

"North Korea's reckless action is an unprecedented, serious and a grave threat to our nation," Japanese Prime Minister Shinzo Abe told reporters.

Abe said he spoke to U.S. President Donald Trump on Tuesday and they agreed to increase pressure on North Korea. Trump also said the United States was "100 percent with Japan", Abe told reporters.

South Korea's military said the missile was launched from near the North Korean capital, Pyongyang, just before 6 a.m. (2100 GMT Monday) and flew 2,700 km (1,680 miles), reaching an altitude of about 550 km (340 miles).

Four South Korean fighter jets bombed a military firing range on Tuesday after President Moon Jae-in asked the military to demonstrate capabilities to counter North Korea.

South Korea and the United States had discussed deploying additional "strategic assets" on the Korean peninsula, the presidential Blue House said in a statement, without giving more details.

North Korea remained defiant.

"The U.S. should know that it can neither browbeat the DPRK with any economic sanctions and military threats and blackmail nor make the DPRK flinch from the road chosen by itself," North Korea's official Rodong Sinmun said later on Tuesday, using the initials of the North's official name, the Democratic People's Republic of Korea.

Global markets reacted to the escalation in tension, buying safe-haven assets such as gold, the Swiss franc and even the Japanese yen on expectation domestic investors would bring large amounts of currency home in times of uncertainty.
EU slams N. Korea missile launch as 'serious threat'
AFP: The EU on Tuesday denounced North Korea's launch of a ballistic missile which overflew Japan as another breach of its international obligations and a "serious threat" to regional security.

"These actions constitute outright violations of the DPRK's international obligations, as set out in several UN Security Council Resolutions, and represent a serious threat to international peace and security," EU foreign affairs chief Federica Mogherini said in a statement.

"The DPRK must comply without delay, fully and unconditionally, with its obligations under all relevant UN Security Council resolutions and refrain from any further provocative action that could increase regional and global tensions," Mogherini added.

North Korea - the Democratic People's Republic of Korea (DPRK) - fired a ballistic missile over Japan on Tuesday in a major escalation that triggered global alarm and a furious response from Tokyo which said it was "unprecedented, serious and grave threat".

The UN Security Council has called an emergency meeting at Tokyo and Washington's request.

"I express my full support to Japan and the people of Japan in the face of this direct threat," Mogherini said.

She said the EU, which has imposed a series of sanctions on North Korea over its nuclear and missile programs, would "consider further appropriate response in close consultation with key partners and in line with UN Security Council deliberations."