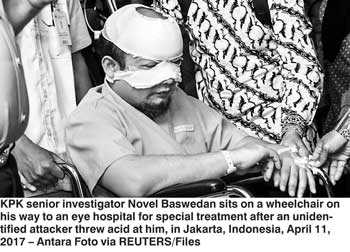 JAKARTA (Reuters): A top Indonesian anti-corruption investigator plans to release the findings of his own probe into an acid attack that partially blinded him last year, after a failure by police up to now to solve the case.

Novel Baswedan, an investigator at the country's Corruption Eradication Commission (KPK), has undergone multiple surgeries on his eyes since acid was flung in his face while he was walking home from a mosque in April, 2017.

The shocking assault heightened concerns about the vulnerability of those trying to fight endemic graft in Southeast Asia's biggest economy.

"I am convinced that this attack has something to do with graft cases that I handled," Baswedan told a briefing organised by the Jakarta Foreign Correspondents Club on Thursday.

He declined to elaborate, but said one case was related to a police general.

A police investigation has so far failed to reveal who carried out or ordered the attack, even though President Joko Widodo had called for the case to be solved quickly.

"Initially, I fully supported the investigation conducted by fellow policemen so that they could address this case and find out the perpetrators as quickly as possible," said Baswedan, who was a police investigator before joining the KPK.

But he said later he had come to the view that "they are not really serious in dealing with my case." Baswedan said his own probe had identified "intellectual actors behind the attack", while also uncovering "irregularities" in the police investigation, noting the elimination of CCTV footage and intimidation of witnesses.

"I have reported this to Komnas HAM (Indonesia's National Commission on Human Rights) for further investigation and my team of lawyers and I have also conducted our own investigation and I will soon disclose the results," said Baswedan, whose left eye had to be rebuilt by specialists in Singapore after the attack.

He said he had been attacked at least five times previously, including attempts to run him over while riding a motorbike.

Argo Yuwono, Jakarta's police spokesman, said the force was serious about resolving the case and denied that CCTV footage potentially useful to the case was not being used or that witnesses had been intimidated.

He said that the team set up to investigate the case was sharing its progress with the KPK and the national ombudsman.

Referring to the broader fight against corruption in Indonesia, Baswedan said it was crucial for the current president and the next government, with elections due in April next year, to do more to clean up the police and other legal institutions.

The KPK has jailed a string of high-ranking officials in the past decade, but Indonesians still have to contend with high levels of graft in many areas of their lives.

Transparency International placed the Southeast Asian nation 96th among 180 countries in its annual corruption perceptions index last year, on a par with neighbouring Thailand and Colombia.