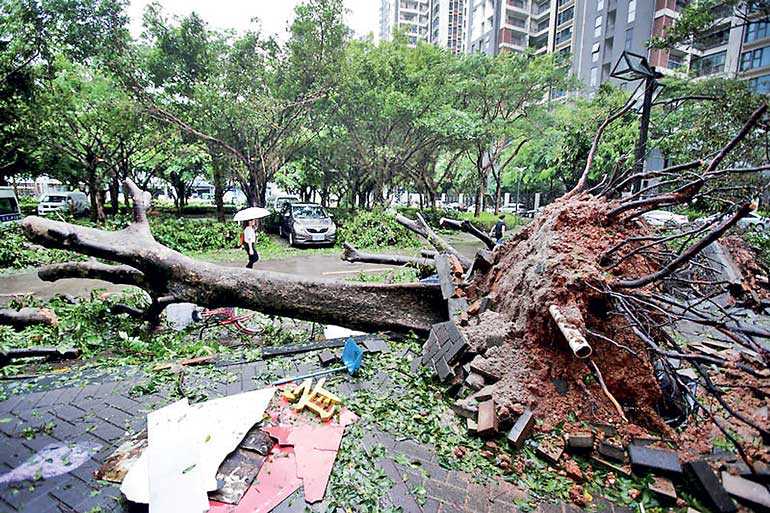 SHANGHAI (Reuters): The financial hub of Hong Kong began clearing up on Monday after being battered by one of the strongest typhoons in recent years, with financial markets and offices operating as normal.

Super typhoon Mangkhut, with hurricane-force winds well over 200 kilometers per hour (124 miles/h), had barreled past the northern tip of the Philippines, killing at least 50 people. It then skirted south of Hong Kong and the neighboring gambling hub of Macau, before making landfall in China. Parts of Hong Kong and Macau were severely flooded, though there were no immediate reports of fatalities. China Central Television, the state broadcaster, said four people had been killed in Guangdong, China's most populous province of over 100 million residents.

The state broadcaster also said flood warnings had been issued for 38 rivers in the neighboring region of Guangxi, while 12 coastal monitoring stations reported their biggest-ever waves. It also said more than 13,300 hectares of farmland had been damaged.

As many as 2.45 million people in Guangdong province had been relocated on Sunday night, the official Xinhua news agency reported.

The China Meteorological Administration said the typhoon, dubbed "King of Storms", swept west to Guangxi province at 6 a.m. (2200 GMT on Sunday) and weakened to a "tropical storm". It forecast the storm to hit the regions of Guizhou, Chongqing and Yunnan on Monday.

The meteorological administration said Mangkhut was one of the 10 biggest storms to hit southeast China since 1949 - when records began - with wind speeds at around 162 km/h.

Across Hong Kong, authorities strived to clear roads of debris, including toppled trees and bamboo scaffolding. Some buildings, including the One Harbourfront office tower, had many windows smashed after a day in which some of the city's skyscrapers had swayed with the ferocious gusts.