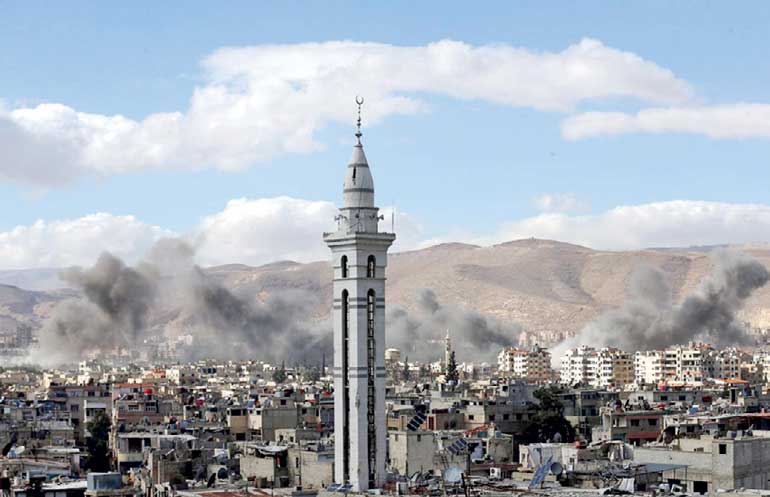 Beirut (Reuters): Syrian government forces pounded a town in the eastern Ghouta with air strikes yesterday (7 March) in an effort to slice the rebel enclave in two as they intensified a campaign to deal the opposition its biggest defeat since 2016.

The Syrian government assault of the densely populated area on the outskirts of Damascus, which began more than two weeks ago, has become one of the fiercest campaigns of the war now entering its eighth year. The Syrian Observatory for Human Rights monitoring group says 800 civilians have been killed by government bombing and shelling.

Live footage broadcast by Syrian state TV from the outskirts of the town of Mesraba showed enormous clouds of smoke rising into the sky. The sounds of explosions and jets could be heard.

A state TV correspondent said militant defences in the town were being struck by "preparatory fire" in advance of a planned infantry assault.

Capturing Mesraba would divide the eastern Ghouta in two after days of a ground offensive that the Observatory says has already seen government forces capture nearly half of the territory. The Observatory said an extra 700 pro-government militia fighters had arrived at the front as reinforcements.

In Douma, eastern Ghouta's biggest town, where civilians from other parts of the area have sought shelter, the sound of frontline battles could be heard, a witness there told Reuters.

The United Nations says 400,000 people are trapped in the towns and villages of the eastern Ghouta, under government siege for years and already running out of food and medicine before the assault. An aid convoy reached the area this week but government officials had stripped out most medical supplies.